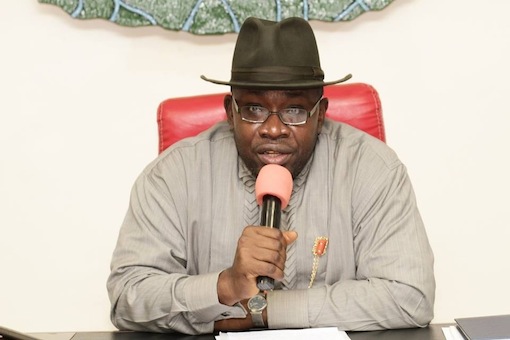 Governor Seriake Dickson of Bayelsa on Saturday restated his commitment to remain loyal to the Peoples Democratic Party, (PDP) despite its losing the presidential and other key positions in the just concluded general elections to the opposition political parties.
Dickson also re-affirmed his commitment to re-position the PDP ahead of 2019.
He warned opposition parties in the state peddling the rumour that he would soon defect to the opposition in a bid to seek political relevance to stop it.
He said this at the monthly media briefing in Yenagoa, as he expressed his readiness to join hands with other critical stakeholders to rebuild the party.
It would be recalled that Sen. Clever Ikisikpo, a PDP Senator representing Bayelsa East who defected to then All Progressives Congress (APC) a fortnight ago, had claimed that Dickson would soon defect to the APC.
The governor regretted the practice whereby some individuals would resort to cheap blackmail and propaganda to further their political personal interests in the state.
He said the PDP would no longer condone indiscipline and disloyalty from its members. "All the kinds of characters I have been tolerating, those days are gone. This is a new order. Most of the so-called people in Abuja from this state are major beneficiaries of our restoration government.
"If you have power, use it for the good of our state. A number of them have big contracts, which were given to them; which they have abandoned. And very soon, I am going to tell our people who most of those characters are," he said
The governor also revoked various contracts his administration awarded to some contractors for lack of performance.
"I hereby announce the cancellation of the contract for the construction of a model hospital in Kaiama that our government awarded to the company nominated by Hon. Waripamowei Dudafa which he has abandoned.
"The Commissioner for Health will re-award it to someone who will complete it.
"Also the contract awarded to Hon. Bekes Etifa is hereby terminated and the Commissioner for Works and Infrastructure should re-award it.
"It is only our own politicians, who when they leave here for Abuja, don't know that they have an obligation to support the home government.
"They think that development is only a matter for the government to do. And even as a government, we are trying our best to change our state in a way they cannot ever imagine," Dickson said.
Dickson said that the contracts were revoked due to non-performance by the contractors.
The governor, however, assured the people that the government would continue to meet its financial obligation, including the payment of workers' monthly salaries despite the prevailing economic challenges.
According to him, in this month, very few states will be able to meet their salary obligations because of the low allocation from the federation account.

Load more