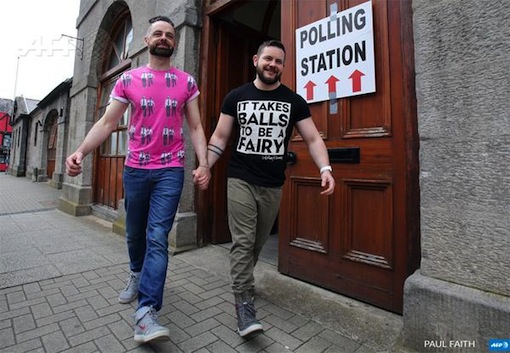 Ireland appeared to have voted to allow gay marriage Saturday in a historic referendum which would see the largely Catholic country become the world's first to make the change after a popular vote.
As the count took place, a leading "No" campaigner conceded defeat while two government ministers said they were confident of victory for the "Yes" side, which has been boosted by thousands of young Irish returning home from abroad to vote.
No official results have yet been announced and the final results are expected sometime after 3:00 pm (1400 GMT) but some "Yes" campaigners were already toasting victory.
Outside the main counting centre in Dublin, Grainne O'Grady, 44, and Pauline Tracey, 53, said the plan was to "celebrate, celebrate, celebrate."
"I'm just so happy I could burst. We were voting on whether we were equal in our own country," said O'Grady, wearing a "Yes Equality" T-shirt.
"It makes me so proud," Tracey added. "It's just been so emotional for everybody."
Legalising gay marriage would be a seismic change in the traditionally Catholic republic, where homosexuality was illegal until 1993 and abortion remains prohibited except where the mother's life is in danger.
One of the most prominent campaigners against gay marriage, David Quinn, said early tallies indicated that those in favour of gay marriage had secured a
victory "roughly in the region of two to one".
Quinn, director of the Iona Institute, added on national broadcaster RTE that it was it was "obviously a very impressive victory for the 'Yes' side".
Meanwhile the junior government minister with responsibility for equality, Aodhan O Riordain wrote on Twitter: "Key boxes opened. It's a yes. And a landslide across Dublin".
Another junior minister, Kevin Humphreys, said he was "happy to predict… an overwhelmingly 'Yes' victory."
– Irish celebrities back 'Yes' –
The referendum has pitched traditionalists including the Catholic Church against those in favour of gay marriage, including Ireland's prime minister Enda Kenny, a Catholic who told voters there was "nothing to fear" in a televised message on Wednesday night.
A string of Irish celebrities have also backed the "Yes" campaign including singers Bono and Sinead O'Connor plus actor Colin Farrell.
All Ireland's main political parties supported amending the constitutional definition of marriage.
Gerry Adams, president of the socialist Sinn Fein opposition party, said Friday's referendum brought the issues of "inclusion and equality to the fore".
The Catholic Church campaigned strongly for a "No" vote, insisting marriage can only involve a man and woman, drawing support from many older and rural voters.
The majority of Irish people identify themselves as Catholic, but the Church's influence has waned amid growing secularisation and after a wave of child sex abuse scandals that badly discredited the hierarchy.
Around 3.2 million people were eligible to vote in Friday's referendum, and reports suggest there was a higher-than-expected turnout.
RTE said large numbers of young voters took part, with queues stretching outside some polling stations during the early morning and late evening peaks.
The issue drew intense interest on social media under the hashtag #MarRef, with some young Irish voters posting selfies of themselves returning from jobs
in Britain and elsewhere to vote in favour of gay marriage.
– 'Hugely important day' –
In a rare move, the government opened up the grounds of Dublin Castle — the historic, ceremonial former centre of British power in Ireland — to the public so they could hear the official result announcement.
As the ballots were being counted, around 100 people gathered there, some with rainbow flags wrapped around their shoulders.
Niamh Fitzgerald, wearing a rainbow necklace, had flown home from Birmingham in central England for the referendum.
"This is only the beginning of a much bigger thing. Everybody has a right to a religion but no one religion has the right to dictate to a country what our
rights should be," said the 29-year-old.
"It's probably going to be the first election where the Catholic Church's power is waning. It is showing a real shift."
Voters in Friday's referendum were asked whether or not to add an article to the Irish constitution saying: "Marriage may be contracted in accordance with
law by two persons without distinction as to their sex."
If the move is approved, Ireland would be the 19th country in the world to legalise gay marriage, and the 14th in Europe.
Across the border in Northern Ireland, gay marriage is banned even though it is legal in the rest of the United Kingdom.

Load more