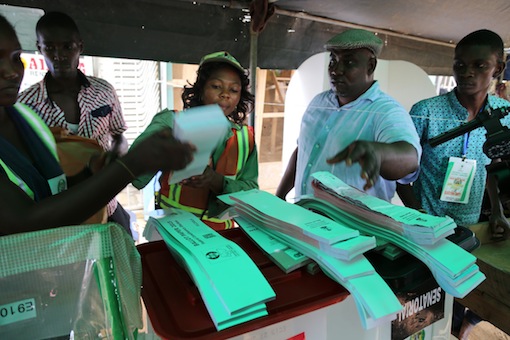 Late arrival of election materials and heavy rain have affected the accreditation of voters for the local government elections in Rivers on Saturday.
NAN reports that the State Independent Electoral Commission (SIEC) is conducting elections in 22 of the 23 local governments of the state.
NAN also reports that the morning rain made it impossible for voters to reach polling units, forcing those already out to either leave the units or take shelter somewhere.
The SIEC Chairman, Prof. Augustine Ahiauzu, said in Port Harcourt that accreditation of voters would commence at 9 a.m. and end at 12 noon.
He said voting would commence at 12:30 p.m. and end when the last person cast his ballot at a particular voting centre.
In some polling units, election officials were seen waiting for materials to commence accreditation of voters.
Correspondents also observed the presence of security agents and election observers at the units.
At Abonnema, headquarters of Akuku-Toru Local Government, NAN observed that voters came out as early as 8 a.m. waiting to be accredited.
Election officials said they were waiting for materials from the SIEC to commence accreditation of voters.
At Wards 11, 12 and 13, Port Harcourt City Local Government, voters were seen waiting to be accredited.
Miss Jane Amadi, a student, said she had been at the polling unit at Ward 11 since 8:00 a.m. waiting for accreditation.
"The election officials are here but they have not done anything because materials are not available," Amadi said.
Mr Emmanuel Emeh, a trader, at a polling unit in Ward 12, said he and other voters had been waiting for election materials to arrive.
"We have been here since morning waiting for election materials to arrive. We will continue to wait to do our accreditation," Emeh said.
Mrs Rose Nyeche at a polling unit in Ward 13, said, "I have been out here since morning waiting to do accreditation.
"I am aware that accreditation will start by 9 a.m. and that's why I came out in time."
A source at the SIEC said some of the election materials left the commission's headquarters late on March 22.
The source said the late arrival could be the cause of the delay in distributing election materials to the various polling units.

Load more