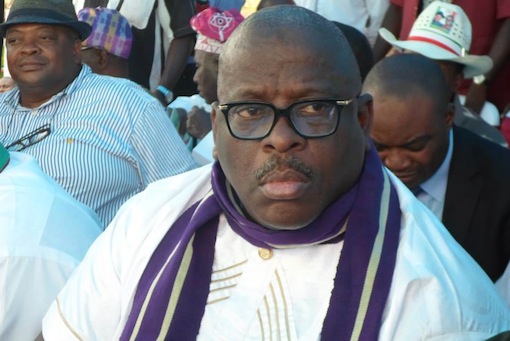 NDLEA operatives who stormed the Lekki home of Prince Buruji Kashamu, will wait till Monday, to know whether they could carry away their prey.
Latest report said the senator-elect from Ogun state was able to delay his arrest because the NDLEA operatives did not come with an elementary paper: a warrant of arrest.
Reports now said that the operatives have now decided to keep Kashamu indoors till Monday when they would seek a court order to effect the arrest.
Kashamu's lawyers will also be going to court to challenge the move, according to Buruji's media aide, Austin Oniyokor.
Oniyokor in a statement said that the latest onslaught is a confirmation of the alleged plot to illegally abduct him in spite of the pending suit against this illegality.
Former Nigerian leader, Olusegun Obasanjo had been accused by Buruji for being the mastermind of the plan to remove him to the United States. But now, Buruji is accusing Chief Bode George, a leader of the PDP. Observers, however, said Chief George is not known to be politically opposed to Buruji, in recent times.
"As a matter of fact, the court has ordered parties in the matter including the NDLEA to maintain status quo until judgment is delivered on Wednesday 27th May 2015.
"We have confirmed that they do not have a warrant of arrest, just as the office of the Attorney General of the Federation (AGF) and Minister of Justice has said that it did not give any order to carry out this illegality.
"We have confirmed that this illegality is being designed and executed by Chief Bode George whose wife is the Director General of the NDLEA, all in a bid to score cheap political points.
"We urge all well meaning Nigerians to prevail on NDLEA, Chief George and his wife to toe the path of the rule of law and follow due process. Nigeria is not a Banana Republic! The United States(US) being the bastion of democracy, the rule of law and due process should not lend itself to this kind of illegality," the statement said.
Buruji is believed to be the "Alhaji" whose drug dealings formed the inspiration for Netflix hit series "Orange is the New Black", which was written by American, Piper Kerman. All the people involved in the drug dealings have all been punished under US law. Only Buruji has remained elusive.

Load more