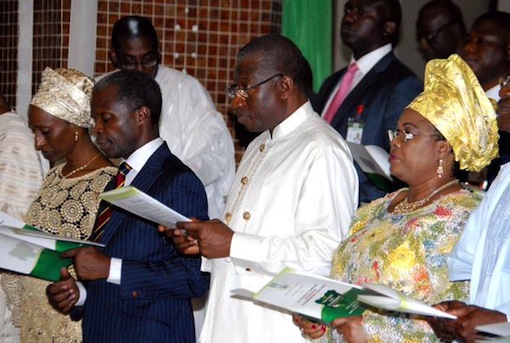 President Goodluck Jonathan has urged Nigerians to pray for him, his wife and those who served in his administration to be able to live a peaceful and decent life after service.
He also urged Nigerians to pray fervently for the incoming administration to enable it succeed and for the peace and unity of the country.
Jonathan made the appeal when Christians converged on the National Christian Centre, Abuja, to pray for successful transition in the 2015 Presidential Thanksgiving and Inauguration Service.
"I call on you to pray for us who are leaving, members of my family and my administration as we leave.
"But you should even pray more for the incoming government because we are leaving as private people to manage our private businesses; they are coming in to manage the whole country.
"So they require more prayers because I can make mistakes that will affect me and very few people, but if they make mistake it will affect the whole nation.
"So I call on all Christians and the religious bodies to pray for the incoming government to succeed.
"Because all what we want as a nation both Nigerians at home and abroad is for good governance, prosperity, unity and peace.
"We cannot achieve that without the help of God."
Jonathan expressed happiness that Christians had converged to celebrate the unity of the country rather than mourn its disintegration.
"We are here not having mass service for mass burial but we are here having service to inaugurate an incoming government," he said, adding that, the service was made possible by the prayers of Nigerians.
The President said that Nigerians had every reason to be thankful to God because in spite of the challenges, Nigeria had made meaningful progress since 100 years of its amalgamation and 54 years as independent nation.
"As a nation, we have all the reasons to be grateful to God. Nigeria is relatively young; from the amalgamation in 1914, we are just about 101 years old as a nation and from independence in 1960, we are just about 55 years old as an independent nation.
"If we compare ourselves with other nations; some of them that have stayed up to 200 years, then of cause, we will know that we are not doing too badly.''
Jonathan said that Nigeria fought a civil war within the period while the political succession had not been easy following the untimely abortion of the first, second third republics.
He, however, noted that the fourth republic had been sustained for 16 years under the leadership of the Peoples Democratic Party while power would now transmit to the a merger of political parties, the All Progressives Congress.
"From 2007 to date, we have always been here for the inauguration service and today we are here.
"That shows clearly that whoever is the President or the Vice President we have one nation, we have one God."
He recalled that in 2007 he called on Nigerians to pray for him when he became the Vice President because as a mortal he could not claim that he was perfect.
He said he could have done things in the wrong way but that he had prayed that any decision he wanted to take that could affect the nation should receive God's guidance.
In a sermon, the primate of the Anglican Church, Archbishop Nicholas Okoh, urged the incoming administration to build upon the unity and peace laid by the Jonathan administration.
"This peace is a theological and political capital that will hold the country together if well invented," he said
The primate said that God loves Nigeria, adding that those who knew nothing to do should pray that the incoming president should be directed aright by the creator.
Okoh said that Nigeria lacked certain basic things as a rich country and Nigerians should be patient with the incoming administration as development took time to achieve.
He also asked for forgiveness across board for God's favour to get to the people.
The cleric said that Jonathan had done well for the country and left for Nigeria, Africa and the World a new political attitude of one's ambition not worth the blood of anyone.
"There is peace in our country; we are grateful for that because it will bring about development," he said.
Okoh urged the incoming administration to complete ongoing projects which would benefit the people.
He expressed satisfaction that the service was held on Pentecost Sunday as the Holy Spirit would breed peace into the country and its leaders.

Load more