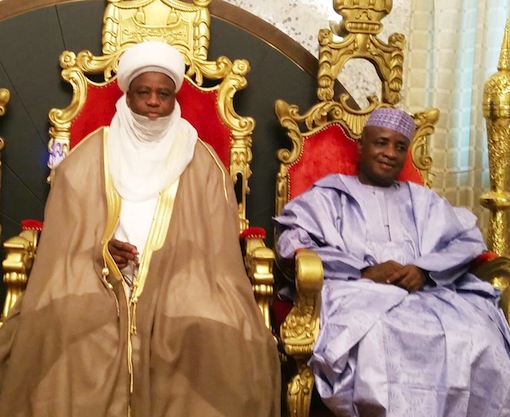 Governor Aliyu Wamakko of Sokoto state on Thursday expressed appreciation to the Sultanate council for offering useful advised which led to the development of the state in the last eight years.
Wamakko was speaking while receiving Sultan Sa'ad Abubakar who led traditional rulers on a farewell visit to government house.
He said that the role play by the Sultanate council in enhancing peaceful coexistence in the state has helped a lot.
He called on the Sultanate council to extend same gesture to the incoming administration to ensure more rapid political development.
"I will continue to seek your wisdom in future for peace, progress and political development of our dear state," he said.
Wamakko expressed optimism that the incoming administration will continue to work with the Sultanate council to improve on the well being of the governed.
Speaking earlier Sultan Sa'ad Abubakar commended Wamakko for coming out with plausible policies and programmes that had being improving the lots of governed.
Abubakar expressed appreciation for the administration in addressing educational challenges in the state.
He said that the establishment of the state university ,college of Islamic studies,college of Agriculture Wurno,college of Nursing will go a long in the development of the state.
He explained that after realising the useful contribution to the development of the state the Sultanate council decided to confer on Wamakko as Sarkin yakin Sokoto.
He said that Sultanate council would continue to offer pray for Wamakko and indeed the entire people of the state.