CONCACAF's General Secretary, Enrique Sanz and two soccer officials from Africa were provisionally banned by FIFA's ethics committee yesterday as the fallout continued from last week's arrests before the governing body's annual congress and presidential election.
Sanz was suspended following investigations by FIFA's ethics committee and also by United States prosecutors while Congolese Football Association (FECAFOOT) officials Jean Guy Blaise Mayolas and Badji Mombo Wantete have also been banned.
CONCACAF president Jeffrey Webb and his associate Costas Takkas were among seven soccer officials arrested in Zurich on Wednesday, two days before FIFA's annual Congress.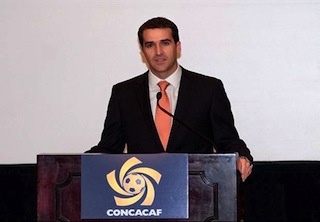 They are being detained pending possible extradition to the United States on corruption charges. In all, US authorities said nine officials and five sports media and promotions executives were charged in cases involving more than $150 million in bribes over a period of 24 years.
They said their investigation exposed complex money laundering schemes, millions of dollars in untaxed incomes and tens of millions in offshore accounts held by FIFA officials.
The Congolese suspensions were "based on the fact that various breaches of the FIFA Code of Ethics appear to have been committed by said official," the committee said.
Mayolas, FECAFOOT's vice-president, and Wantete, general secretary, were suspended for 90 days pending further investigation, renewable for another 45 days. In another development, English Football Association board member Heather Rabbatts said she was withdrawing from FIFA's task force against racism and discrimination with immediate effect.
"Like many in the game, I find it unacceptable that so little has been done to reform FIFA," said Rabbatts in a statement. "It is clear from the re-election of president Blatter that the challenges facing FIFA and the ongoing damage to the reputation of football's world governing body are bound to continue to overshadow and undermine the credibility of any work in the anti-racism arena and beyond."

Load more