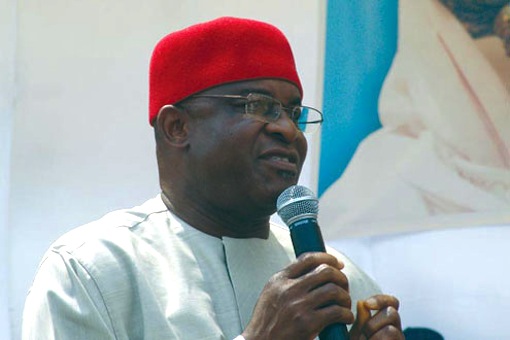 Senate President, David Mark, in Abuja on Wednesday, said he joined politics in order to serve God and humanity.
Mark said this at a thanksgiving service organised in his honour by Christian Legislators Fellowship International, National Assembly.
He added that through the prayers of the people, God saw him through the years and ascribed his achievements from the military era to the present dispensation to God's grace.
He recalled that the Senate had five presidents between 1999 and 2007 but he remained president for a period of eight years, from 2007 to 2015.
"I joined politics to serve not only humanity but to serve God; I chose to be a team player in order to carry the senators along and I call each of the senators my boss.
"People of God, I cherish your prayers so much; it is not yet over until it is over by God so continue to pray for me."
In his remark, the Deputy Chaplain to the President of the Senate, Rev. Vincent Asuquo, described Mark as a focused man who relied on God for guidance.
Asuquo said "Mark was a very focused officer when he was in the military. By the time he became Major, those who appointed him as Chairman of Abandoned Property saw that quality in him as young as he was.
"His comportment, spirit of statesmanship, team spirit, a very humble personality are the attributes God anoints a personality with as leader and Mark has them all.
"He is a bridge builder and not given to arrogance, neither does he claim to know it all. When a personality has such attributes, the sky is the limit of his ascendancy in his career."
He advised whoever emerged the Senate President in the 8th Assembly to examine himself or herself and be prepared to learn from the mistakes and the successes of the past assembly.
Also, Pastor Pertru Okebugwu, Senior Pastor, Ark International Christian Centre, Gwarinpa, Abuja, who led the prayer of intercession during the service, described Mark as a man that feared God.
"It only takes a man that has access to the spirit of wisdom to be able to do in eight years, what five persons had to do. It takes an uncommon display of God's wisdom and grace to achieve that.
"What I will advise is for the 8th National Assembly to apply the same principle Mark displayed to achieve so much feat as President of the Senate.
"He knows how to rally people together and that is a great attribute that must be emulated."
In his comments, the Chairman of the fellowship, Sen. Ita Enang (APC- Akwa Ibom North-East), urged members of the fellowship to continue to pray for the leadership of the 8th National Assembly.
Enang said that though the 7th Assembly was bowing out, the fellowship should not relent in its meetings and prayers.
He, thereafter, announced Sen. Barnabas Gemade (APC-Benue North-East) as the new Chairman of the fellowship.
NAN reports that Enang took over as chairman after the death of Sen. Uche Chukwumerije.
At the thanksgiving, Enang handed the mantle of leadership to Gemade as he would not be part of the 8th Assembly as he was not re-elected.

Load more