Ayo Lawal & Daniels Ekugo
The late veteran actor, Femi Robinson, popularly known as the Village Headmaster, was buried today in Rogo, Iju Ishaga area, Ifako-Ijaye Local Government Area, Lagos, southwest Nigeria.
Robinson died on Wednesday, 20 May following a brief illness at the age of 75.
A Christian wake and artistes' night was held for him last night, followed by lying-in-state at his residence.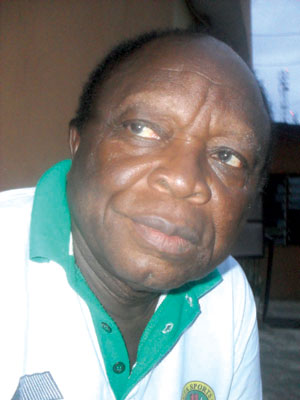 His body was taken to Elliot Memorial Methodist Church, Iju Ishaga where a church service was held on Friday before he was buried.
Dignitaries including the governorship candidate of the Peoples Democratic Party, PDP in the 2015 election in Lagos State, Jimi Agbaje, Dejumo Lewis, Tunde Kelani and Taiwo Obileye amongst others attended the burial.
Femi's baritone voice and deep knowledge of the English Language resonated with viewers in the now rested popular soap opera, 'Village Headmaster' in the 70s and early 80s.
Also popularly known as 'Ife Araba', Femi, a pioneer of the soap opera, effectively married his acting prowess with his other activities as a director of programmes on TV and was passionate about the promotion of arts and culture in Nigeria and Africa until his death.
He became the headmaster of 'Oja Primary School', an imaginary village setting in the soap opera, after the departure of Ted Mukoro in 1973 and successfully connected well with both the young and the old with the near perfect delivery of his lines and sound diction.

Load more