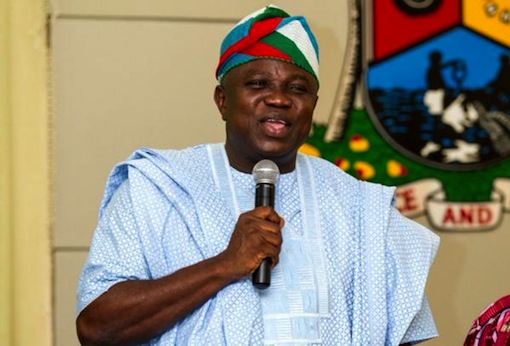 Governor Akinwumi Ambode of Lagos State on Sunday urged corporate organisations, NGOs and individuals to invest in cancer awareness, diagnosis, treatment, prevention and research to reduce the burden of the disease.
Ambode, who was represented by the Deputy Governor, Dr Oluranti Adebule, made the plea at a programme to celebrate his birthday, tagged 'The Banquet of Stars Against Cancer'.
The programme was organised by the Committee Encouraging Corporate Philanthropy In Nigeria (CECP) to commemorate Cancer Awareness Week, raise fund and mobilise Nigerians to fight cancer scourge.
He said that government recognised the task to provide quality healthcare for the people.
"Lives are lost everyday to cancer and this is unacceptable. This triggered the annual health mission organised by the Lagos State Government to screen the public for cancers.
"Government alone cannot do it. I call on corporate bodies, NGOs and individuals to invest in healthcare to reduce disease burden.
"To this end, I urge those who planned gifts and adverts for the celebration of my birthday to channel the funds towards the fight against cancer," he said.
Tony Elumelu, a former Chairman of the United Bank for Africa, in a keynote address highlighted lack of fund and private sector involvement as factors militating against adequate health care facilities in Nigeria.
"I can rightly say that funding is the most critical in the delivery of health care.
"Financing is a critical wall against the fight against cancer, so on realising this we proposed a fiscal policy aimed at improving our medical facilities.
"However on our part as organised private sector and Capital Market Community, we have resolved to raise more than N1 billion in 10 years to fight cancer.
"The specific goal is to raise funds to acquire and deploy 37 Mobile Cancer Centres (MCC), which would take health promotion to grassroots of Nigeria. Each Mobile unit costs N120 Million.
"Therefore, I call on other organisations to be a part of this fight against cancer by donating generously to this course," he said.
Also speaking, Dr Abia Nzelu, Secretary, CECP said that one in three Nigerians would be diagnosed of cancer in their life time, 100, 000 news cases were diagnosed yearly and 80, 000 die annually of cancer in Nigeria.
"We need to act fast and now by providing these mobile cancer clinics, comprehensive cancer centre and a cancer institute to win the war against cancer.
"This move will screen, diagnose, treat and prevent cancers since early detection and prevention is the way to overcome the cancer burden," she said.
Some of the cancer victims, who spoke at the occasion, were Maiden Olorogun Ibru, who lost her husband Mr Alex Ibru to colon cancer, and Ms Adenike Oyetunde, lawyer and broadcaster, who lost her limb to cancer.
They appealed for generous donations towards saving many Nigerians from the scourge of cancer.
Olorogun-Ibru asked the Lagos State Government to kick-start the campaign by donating a mobile cancer centre, to set an example for other states.

Load more