Gillian Hopwood and her husband, John Godwin, are British-Nigerians. John has been awarded OBE and OFR while Gillian has been honoured with MFR. The couple, both architects, came to Lagos in 1954 and have stayed in the city where they have been running their architectural practice.  Gillian and John have put their experiences about Lagos in two books, Sandbank City: Lagos at 150 and A Photographer's Odyssey  1954 – 2014. Recently, the couple share their experience in an interview with FUNSHO AROGUNDADE and EMMA OSODI 
In the last 60 years since you have been here, what Lagos have you known and what Lagos have you seen?
Gillian: I have seen the Lagos of colonial days and that of today. I have witnessed the population growth. Every single day, more people come into the city. So, it's a completely different Lagos. Then, the only traffic hold up was at the Ebute Metta Railway crossing but it is a different story now.
John:  This is a question I am often asked; how things have changed? People tell me I must have seen many. But I think a lot of fundamental things about a big city like Lagos don't really change very much. They merely grow. These create many problems which need to be solved and the solutions are not particularly difficult but they do require huge resources.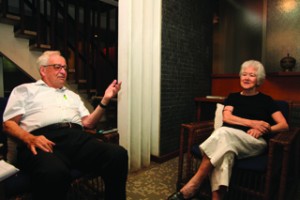 Gillian: When we first came, Lagos was an indigo town. Everybody was wearing blue, locally produced tie-and-dye. At that time, there were no high-rise buildings. The tallest building was the "Six-Storey" on Broad Street. I also noticed that imagination was missing in the naming of buildings. Lagos is now crowded. Change is imperceptible until you study comparative images taken over the years. I think that the photographs in the book (A Photographer's Odyssey) will explain that better. For example, if you look at the picture of traffic coming across Carter Bridge, there are very few cars, almost always driven by expatriates, and many bicycles. During our first tour of 18 months, we lived in Ebute Metta, then, when we returned to start our own practice, we moved to the Island. There was discipline in the town, if anybody was making too much noise late at night one could phone the police and they would arrive and the noise would be stopped! While still living in Ebute Metta, we worked in Broad Street and were able to go home for lunch and return to work within the hour, almost unbelievable now.  The rain forest started from the Yaba Roundabout; with only a few houses beyond. The first time my husband took me to Ikeja, we drove through Oregun village and I was expecting to see lions and tigers.
We are currently going through our archives and really going back in memory. We wonder how we managed to build this house (their Boyle Street, Lagos Island home). Many of the materials, other than the basic sand, cement and aggregate, had to be imported. When starting a contract it was necessary to know exactly what was needed and orders placed accordingly. Then, towards the end of the job when you were hoping to complete, you discovered that some agents had not placed the orders and another few weeks elapsed before the building was ready for occupation.
John: Lagos has not really changed but has just got bigger with the addition of noise and pollution. When we built our house here, we considered natural ventilation and space. But nowadays, you have houses built very close to each other. There is over-crowding and a lot of very poor buildings. We have been able to see a few good public buildings going up. Lagos Island is still problematic with the real issue being the ownership of the land. Families fail to agree on what to do with their land. There is also the problem of open spaces. There are not enough public areas for recreation. Security is another problem, walled and gated compounds are environmentally constricting. In the early days when we drove through Ikoyi, the roads were not wide but there were generous grassed verges with trees on both side and open driveways into the compounds each of which was one acre in size. Theft was minimal. When we moved into Onikan, the King George V Jubilee Park still existed, over the years it has been built over. The Onikan swimming pool is now a fire station.  Another part was the children's' playground in front of our house which was also used by the young people of Onikan for recreation. Parties and events could be held there at minimal cost. Now we have a building with attendant maintenance costs, to be used for what? That last open space is gone now.
Lagos Island then was occupied by people from many different places, the Saros and the Bekutas, (people from Jamaica of Abeokuta origin), Adudas from Brazil as well as traders from the Middle East and Europe. It was also the commercial centre of the country with its own port.
Gillian:  Yes, Lagos was a heterogeneous society. By 1950 there were not very many expatriates actually living on Lagos Island. Previously European bank officials, such as those who worked for Barclays Bank, occupied buildings close to the banks.
Can you share with us the story of how you and John began to take photographs each weekend?
Gillian: My father was an engineer whose hobby was photography and I was given a camera for my 8th birthday and became interested in taking and keeping photographic records. During my architectural training I used to borrow my father's camera and take pictures when we visited buildings. By this time I worked with him to develop and print pictures in our own dark room and would offer for sale the finished work to the design architect, it was an interesting side line.
John arrived in Lagos about nine weeks before me and had spent many hours walking through the Lagos streets identifying interesting buildings so when I arrived with a new camera – a present from my father- he took me with him to take pictures.  We chose the weekends, usually Sundays when there were not too many people on the streets.  I cannot remember how many weeks it took to take the 1954 collection; certainly it would be seven or eight reels of film.
What actually motivated the making of your two books: Sandbank City and A Photographer's Odyssey?
Gillian: The first idea was to publish the 1954 photographs but the longer we stayed here, the more information we collected and we wanted to share it. Initially we thought of publishing when we had spent 25 years here, but other things intervened and we postponed the project. We thought of how the place was and how it is now, how plans had been made for the development of the city state and so the book became Sandbank City.
John: I think the making of those two books was inevitable. It all started with Gillian taking photographs when we first came and we were sending them to our friends and relations. Basically, it was about our desire to learn about Nigeria, about climate and the design of buildings which are suitable for the environment. We needed the 1954 photographs to show the family where we were. Then later we got to know Lagosians, and through them we developed the interest in the history of Lagos. My family in England are quite well known. And my wife also traced one side of her family back to Belgium in the 16th Century. So, we have a sense of history behind us. Many people are into DNA test as a way of tracing their roots. That led me to the issue of slave trade which I think was a terrible thing. It destroyed people and their background. It makes them to no longer know who they were and all they can remember is having Oduduwa lineage or that they are from Benin kingdom or from Ile-Ife. But beyond that, we all do have a background even though it may be a very tenuous one.
So, part of the motivation for writing the book is just to preserve history as it were. Is that right?
John: Yes. When we did Sandbank City, Gillian was in the middle of the other book, A Photographer's Odyssey. She already had the photographs and printed them. So the books are one of pictures and the other more of history. Sandbank City contains genealogy and questions why sandbanks were in those places. Ordinarily, people tend to settle in an area where they can live, find food, and procreate. That is how Lagos became a place where people can actually live. In Sandbank City, we had two co-authors; one was T.M. Aluko, who was a brilliant civil engineer and Kunle Akinsemoyin, who was from one of the old Lagos royal families. Sadly, Akinsemoyin died after contributing some few notes in the book while T.M.Aluko wrote some sections. Both have been duly acknowledged
Do you feel any sense of loss when modernity takes over historical sites and other sites that we consider so important?
Gillian: I think we have lost some buildings which should have been kept. But you cannot keep everything particularly in an area where there is no room for expansion. Land values are too high to retain a single storey building where a multi storey one will make more sense from a commercial standpoint. However measured drawings should be made and photographs taken before demolition.  We disagree with the design philosophy of many of the buildings going up now, with all due respect to some of my architect friends; some could just be coming out of foreign magazines, having said that I have to add that many designs are now client driven!  We, ourselves, have been fortunate to have had clients who understood that it is wiser to focus on building for this climate, a philosophy which is becoming more fashionable again as climate change is better understood and concern for the environment is growing.
You trained some architects in the university. What impact did you make on them and in what ways have they shown that they were actually impacted upon?
John: Well, it would be very difficult to say because architectural education worldwide is passing through a difficult period. When I began to teach at the University of Lagos, I was running a postgraduate course which was planned to be completed in two years but in fact was taking four years.  I had to explain to the Vice Chancellor that mature students were usually only able to study part time since they had to have jobs in order to survive. Some of them were married and their daily programme was fragmented. I started with 12 students, some fell by the way side, but I finished with four who eventually graduated. Later I was able to take more interest in the undergraduate school and concentrated more on the effect of climate on building and the detailing of elements such as doors, windows, and roofs.  I considered that this was more valuable than concentrating on pure design
Talking about structures and the way engineers do design them, have you noticed that the Third Mainland Bridge undulates as you drive on it? Do you share the view that the bridge is a disaster waiting to happen if the structural problem is not solved?
John: I heard from several people who were employed by the company which built the bridge that the shuttering was not sufficiently well supported even though some of the expansion joints have been replaced. I know that some tests on the bridge have been carried out so I do not believe that it will collapse. My opinion is that the bridge is still usable.
Can you share with us the motivation for the Legacy Project in which you are deeply involved?
John: This is the whole question about recording history. The known and visible history of Lagos which is about 150 years as documented in Sandbank City. Of course, we just summarised it as you cannot put all the history in one single book. But we tried by starting with the genealogy and we worked our ways through until we got to the present day. We actually started from the middle and we then began to fill it up. Why are these things there? How did that get there? Until we got to the point of looking at what is happening now as we get to the genesis of Eko Atlantic City. That is not the end of the story but the beginning of the next chapter and others have to carry on. So, on the Legacy Project, it was started by a group of people. The person who really initiated the idea was Mrs Kofo Adeleke. At the time she was working at the British High Commission and she came to a few of us with her ideas and eventually we formed a group which was known as Lagos Heritage. When we considered that Lagos Heritage was becoming too politicised, several of us indicated that this was not what we wanted and broke away, renaming ourselves Legacy with the aim of raising the awareness of people in their own history.
In the past 20 years we have achieved a lot on very little money. We started with the Lagos Walkabout project which involves guiding groups of people through Lagos streets and discussing architecture and history of buildings. A guide book is shortly to be published. Mrs Adeleke initiated the preparation of a Historical Map of Nigeria which shows ancient sites and forest reserves throughout the country.  Six thousand maps were printed. Other visits have been made to Badagry and Epe which have historical sites.
Gillian: And then we got involved with the Railways.
John: Yes, we contacted Willie Nwokedi who lived in the Railway compound. He introduced us to the Sole Administrator of the Nigerian Railway Corporation who had been appointed by the Olusegun Obasanjo administration, who agreed that there were many interesting buildings worth preserving. Five were identified and permission was given to restore them and form a museum for railway artefacts.  We were able to restore the General Manager's house with a generous grant from the BG Group. This is now Jaekel House, the Legacy HQ, and a tourist destination as well as a place for school visits. A second house is in the process of being restored which we hope can be used as an educational centre.  Funds are desperately needed for this project.
I am pleased to report that in the past few years we have had many new members from the younger generation and now the Committee is made up of 60 – 70 per cent of men and women under the age of 35 all of whom are really interested in the history and heritage of their people. They are interested in preserving and restoring the heritage in order to leave a legacy for future generations..
Does it make any sense to you when some people say Lagos is a no-man's land?
Gillian: No, Lagos is not a no- man's land but Abuja is. Not Lagos.
Why did you say that?
Gillian: Of course, if you have lived here, you will know that Lagos is not a no-man's land. Lagosians, of whom we are, are fiercely proud to be of this city state, while Abuja remains a government centre. Kaduna, Brasilia, Canberra and Ottawa all were started as New Towns and have become 'places' where people have been born and lived out their lives, this takes time.
 I can see two inspiring figures who feel fulfilled doing what they love doing. It looks like it's your work that keeps you going. Is that right?
John: Yes, we enjoy what we are doing.
Gillian: Someone said to me some days ago that we should stop working and rest. I replied that work is our hobby. And it is!

Load more