Okafor Ofiebor/Port Harcourt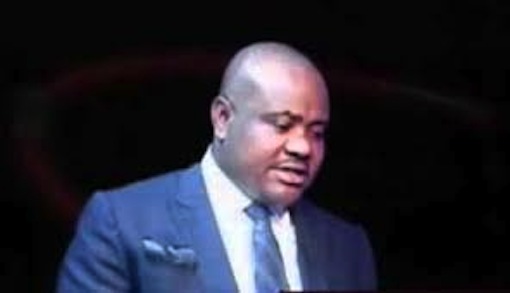 The Governor of Rivers state, Nyesom Wike, has expressed satisfaction with the level of work done on the Woji-Akpajo Bridge.
The governor made his feelings known while inspecting the project initiated by former Governor Chibuike Amaechi to ease traffic for those heading to Akpajo, Eleme and Ogoni axis.
"The contractor is doing well. It doesn't matter which administration awarded the contract, it's a major project that would ease off traffic on Aba road and the slaughter to Woji Road so it's an important Road and we commend the contractor for not demobilizing from site despite the fact that he has not been paid for the past one year. I am very happy with what has been done," Governor Wike said.
Governor Wike explained that the project is key to his administration and promised to complete it within a space of time.
Earlier, the contractor handling the project, Mr. Ellias of Raphael Nigeria Limited lamented that the company has not been paid for over a year, disclosing that, the company has received only 68 per cent of funds for the project that is more than 70% completed.
The project was awarded for the sum of N11,055,891,675, and the amount paid so far is N7,035,511,282.34 .
Wike also inspected the Port Harcourt Shopping Mall started by Sir Celestine Omehia to ascertain the level of work done and expressed readiness to complete the abandoned mall within a space of three months.
Former Governor Amaechi refused complete the shopping mall alleging structural defect but political observers believe otherwise.
Analysts claim Amaechi never forgave Omehia for claiming his mandate during the K-leg saga when Omehia became Governor for six months until Amaechi reclaimed his mandate through the celebrated Supreme Court judgement.
Load more