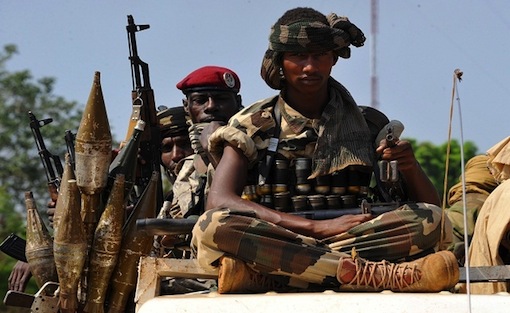 Chad troops are carrying out airstrikes on Boko Haram positions in Nigeria, the Chadian army have confirmed.
The Chadian army said the strikes had caused heavy human and material damage to six of the Islamist militants' bases. It provided no further details.
It would be recalled that suspected Islamist suicide bombers killed at least 27 people in the Chadian capital N'Djamena on Monday in what appeared to be retaliation by Nigerian militant group Boko Haram for Chad's leading role in a regional offensive against it.
At least 100 people were injured in two simultaneous attacks at around 9:00 a.m. (0800 GMT) on a police headquarters and training school. It was the first strike of its kind in the central African nation, which has emerged as a firm Western ally against Islamist groups in the Sahel.
The government, which said that four Boko Haram fighters were among the 27 dead, announced a raft of measures to tighten security in the capital which serves as the headquarters for a 3,000-strong French mission – known as Barkhane – fighting militancy in the region.
Chad, whose oil revenues have helped it emerge as a military heavyweight in the region, has been a driving force behind a campaign that has inflicted a series of defeats on Boko Haram since January.
More to follow…
Load more