Harrison Iyoha
Residents of Ebute and Ogolonto areas of Ikorodu, Lagos, Western Nigeria, woke up Wednesday morning to be confronted by armed men who came to rob two banks in the area.
According to eyewitness accounts, the heavily armed men stormed two old and new generation banks around 8a.m. in Ikorodu and successfuly carted away unspecified sum of money.
The robbers were said to have shot sporadically in the air to scare people away before gaining access into the banks.
However, an official of one of the banks said the robbers did not succeed in gaining entry into the bank.
P.M.NEWS gathered that the robbers who attacked the banks located at Ogolonto, Ebute areas in Ikorodu came in three SUVs which they burnt before escaping in speed boats as the area the operation took place is very close to Majidun river.
Men of the Nigerian police who were alerted to the situation  were said to be on the trail of the fleeing robbers at the time of this report.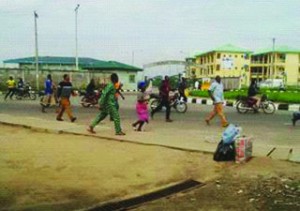 Residents are now calling on the police in Ikorodu to live up to their responsibilities.
The residents said instead of doing what they were employed for, the police go about looking for young boys carrying bags to harass and arrest them indiscriminately just to extort money from them.
Agubuto, an angry commentator in one of the online news portals, while reacting to today's robbery attack wondered why the police are always found wanting whenever incident like this happens.
"Where was Nigeria Police Force then? Are they not there at Ikorodu? The next thing they will do is to run to the street and start arresting innocent citizens and collecting money from them before giving them bail. This is just too said," he said.
Also reacting to today's robbery attack, the police on its Twitter handle, @PoliceNG said: "Our officers are responding to armed robbery at Ikorodu, Lagos. Citizens are advised to stay off vicinity; Lagos now secured after our officers responded to bank robbery this morning. Police units remain on ground."
Heavily armed robbers had on Tuesday, June 2, 2015 laid siege to three banks in Ikorodu town in Lagos. According to eyewitnesses, the deadly raids were coordinated by a woman who was seen giving orders to her gang members during the raid.
The attacks led to the death of two persons and an unspecified amount of money running into millions of naira carted away from the banks.
Those who witnessed the raids say the woman who wore army camouflage carried two guns and stood at the front of the gang, directing them into the banks and was also the one who fired intermittently in the air to scare away people.
It was gathered that the robbers snatched two vehicles, including a Lexus Sports Utility Vehicle (SUV) and drove towards Ijede, a remote part of the town, after the operation.