Judokas from across the country will take Abuja by storm on Thursday preparatory to the trials to raise a team for the 11th All Africa Games.
According to the programme of events released by the Nigeria Judo Federation, NJF, the arrival date for the three-day showdown is Thursday.
The contest which is featuring judokas in men and women categories is scheduled for Friday and Saturday while Sunday is for departure.
Over 250 judokas are expected at the trials which will take place at the Nigeria Security and Civil Defence Corps (NSCDC) Academy  in Sauka.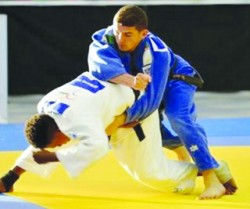 Judokas from the states, the  military, para-military and clubs are expected to participate in the trials.
President of the NJF, Dr. Musa Oshodi said the trials were open to all Nigerian judokas with current licence and should not be less than 18 years of age as at August 2015.
According to Dr. Oshodi, "the trial is open to all judokas who have the dream and patriotic zeal to hoist Nigeria's banner at the All Africa Games which will take place in Congo Brazaville in September.
"All the judokas are required to be part of the trials with their  valid licences and should not be less than 18 years of age in August 2015."
Meanwhile, champion in the 63 kg category for women, Esther Augustine, said the trials would be explosive.
She stated this after her training session at the National Stadium, Surulere, Lagos on Tuesday.
"We've been very hungry for competitions and thank God for the trials.  We will give our best because the dream of every judoka is to represent his or her country," she said.
Esther, who competes in the colours of NSCDC, is one of the continent's best in her weight category.

Load more