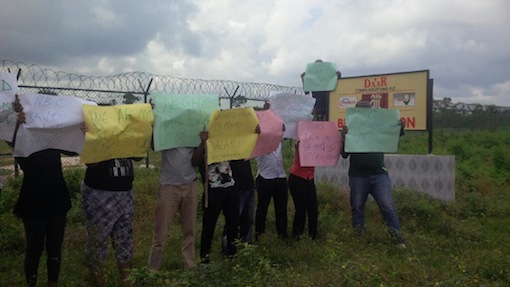 The Nigeria Union of Journalists (NUJ) on Tuesday picketed Thisday Newspaper, in Apapa over nine months salary arrears owed its workers.
The union officials, who carried placard and barricaded the office headquarters of the organisation, condemned the continuous failure of media organisations to pay salaries of their workers, especially journalists.
Mr Deji Elumoye, NUJ Lagos State Chairman told NAN that, there were 12 other media houses that were not paying workers their wages.
According to him, he led the picketing of Thisday Newspaper to show example that charity begins at home.
"I am an associate editor in Thisday, that is why I chose to picket Thisday first. There are other media organisations owing over two years and we will go to all of them.
"It is time to put a stop to non-payment of salaries in the media organisations. Many families cannot pay their house rent or pay their children's school fees.
"The journalists are paid peanuts, yet they do not get the salaries. It is sad," Elumoye said.
He urged newspaper publishers to prioritise the welfare of workers, adding that anyone that cannot operate and pay workers should close the business.
He called on the publisher of Thisday, Mr Nduka Obaegbena to pay his workers all their entitlements.
He listed the outstanding monies to include, taxes, pension, co-operative and check off dues accrued in the last four years.
He also called on the National Pension Commission to prosecute media owners, who do not remit workers' pension to serve as deterrent to others.

Load more