Funsho Arogundade
R&B superstar and songwriter, Darey Art Alade is back with two new singles off his forthcoming album titled Naked.
The songs, Pray For Me (Gbàdúrà Fuń Mi), features multiple Grammy award winning Soweto Gospel Choir and Àsìkò Laiyé features popular indigenous rapper Olamide.
The two songs were played Tuesday, 7 July on major radio stations around Nigeria.
Renowned for major hits in the past, Darey has reassured fans that he is not leaving the music scene anytime soon as he is set to release his fifth album after four years.
Pray For Me tells a powerful, positive story of victory against all odds with Darey channeling the spirit of his forefathers as a traditional folk storyteller against a rich backdrop of impressive harmonies from the world famous Soweto Gospel Choir.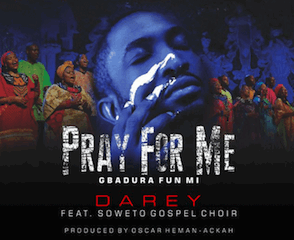 Translated to Gbàdúrà Fuń Mi in Yorùbá, the song is an inspiring musical experience that contrasts Darey's signature voice range with the delightful vocals of the over 20-strong choral group.
Àsìkò Laiyé", the second single is an up-tempo Afrobeat-Hip-Hop fusion featuring rapper Olamide.
Drawing heavily from the Afrobeat sound of Fela Anikulapo-Kuti, the light-hearted yet inspirational number sees Darey fuse an R&B song with the raw earthiness of Olamide's "Street-Hop" flavour to deliver a danceable, yet truly conscious piece of music.
"I thought it would be good to give the fans a sample of the kind of diversity on this album. The idea was to prove that it is possible to make good music that is low-tempo, mid-tempo or a dancefloor filler and still have a message," said Darey on the new singles.
He added: "I was particularly excited to work with the sensational talents of Soweto Gospel Choir on Pray For Me, while Àsìkò Laiyé was also a lot of fun to record and work on. Olamide is a bag of energy and I love the verve and flow he brought to the song. I'm sure fans will love it too."
Darey has also revealed that the album, Naked, boasts of other exciting features and will be released this August.

Load more