Taiwo Adelu
Soccer fans in Yaba, Lagos and its environs will on Saturday morning, 11 July, be treated to a soccer contest between All Stars Family Football Club, Surulere, Lagos and the KiriKiri All Stars at the Psychiatric Hospital playground, Yaba, Lagos.
All Stars Family FC have been undefeated for the past 20 months. They recently drew 3-3 with powerful All Stars International FC of Lagos, captained by ex-Lagos State Governor, Raji Fashola.
They also drew 2–2 with Oshodi/Ejigbo/Isolo, played a 3–3 draw with Peace Vills Estate FC, Alasia-Bagore and were held to a 2-2 draw by Nolly Stars FC, all friendly matches.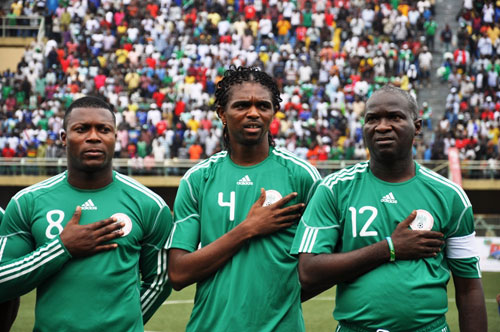 According to the technical adviser of the All Stars Family, Sunday Joe, the Yaba/Surulere lads will be led by the new Presisdent, Uduak Evans Udoukpong.
Others include Friday Ekpo, Ekere Afia, Gabriel Edem, Augustus Okenwa, a.k.a. Skillful, Dominic Umoh 'The Dom", Samuel Akpan (Efa), Ita Obontuk, Obot John Obot, Paulinus Umoh, Chidi Jeme and Amaechi Nwanze.
Kiri-Kiri All Stars are yet to unveil their squad for the cracker scheduled for Psychiatric Hospital playground, Yaba, but sources to the team's camp revealed that a crack squad for the early morning showdown would be made public between now and Friday.

Load more