Jamiu Yisa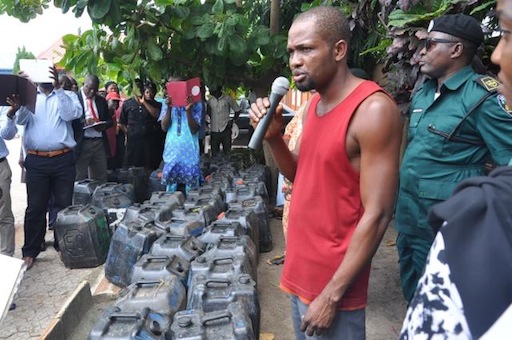 The Ojodu Local Council Development Area of Lagos State on Monday, 13th July, 2015, apprehended a middle-aged man in Ogba area, Innocent Nwevo, with 47 kegs of Premium Motor Spirit (PMS) otherwise known as Petrol.
Executive Secretary of the council, Malam Ahmed Moyosore Jaji, said a combined team of members of the Caretaker Committee and men of the Nigerian Security and Civil Defence Corps attached to the LCDA arrested the culprit.
Explaining the circumstances that led to the arrest to journalists, Jaji said the team, acted on a tip off that a tenant in a shop opposite Sunday Retail Market, Ogba, was stockpiling and engaging in illegal sales of petroleum product in the area.
Jaji said that being a resident of the area, he mobilized his team for an on-the-spot assessment of the place.
He said they didn't meet the culprit initially but later got him and discovered several kegs of petrol, carefully concealed behind foodstuffs and other commodities in the shop, adding that to avoid being mobbed, the team took both the culprit and the exhibit to the council.
"We thank God that an action that could put our lives and properties in jeopardy was averted today, because, who knows what could have happened if this bunkerer was not apprehended or imagine , a keg out of the several kegs bursts, the whole environment and this area would have been in crisis.
"Thank God, we were able to avert this. However, having succeeded in nailing the culprit, our next line of action is to hand him over to the appropriate law enforcement agencies for further necessary action. Though, I have at the same time intimated the relevant government agencies especially, Lagos State Government about the discovery," Jaji said.
Answering questions from journalists, Nwevo, who claimed to be a food vendor, admitted that he knew that the business is illegal but due to his dwindling business, he was introduced to petrol business by one Mr. John who resides in Mowe area of Ogun State.
Nwevo said he has six shops in the area but unfortunately, those working with him went away with all his fortune and business money, which now made things difficult for him. But to make ends meet, one of his friends introduced him to the business.
He said he purchases the fuel from around Mowe axis and transports it in a vehicle to sell for around N5000 for 50 litres.

Load more