Jethro Ibileke/Benin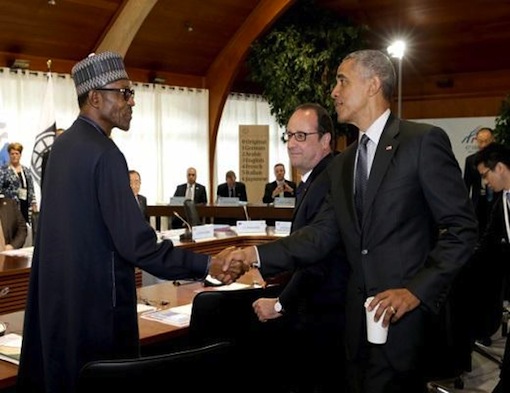 As President Muhammadu Buhari departs for Washington DC tonight on a four-day official visit to the United States of America, the Chief Imam of Benin Central Mosque, Alhaji Abdulfattah Enabulele, has cautioned Buhari against accepting any Greek gift that would compromise the cultural and religious heritage of the Africa people in desperation to end Boko Haram menace.
Buhari who is scheduled to be hosted by United States' President, Barack Obama at his official residence on Monday morning, is expected to among other things, seek assistance and support for Nigeria's war against the Boko Haram insurgency that is ravaging the country in the Northeast region.
The Islamic cleric who gave the warning Friday in Benin, capital of Edo when he led other Muslims to pay Eid-El-Fitri celebration homage to the Edo State Governor, Adams Oshiomhole at the government house, noted that there was a new trend of civilization spreading in some parts of the globe.
"Sir, America and Europe seems to have found a new civilization in sodomy. They probably believe that the men of Sodom and Gomorrah were destroyed either because they were not clever enough or they had no nuclear power with which to fight God.
"America is currently the champion of modern civilization. Whatever emerges from America is perceived as a trend of civilization which the rest of the world must keep pace. On June 27, 2015, America's Supreme Court gave a split judgment of 5 to 4 that shocked the entire world to marrow. The judgment officially granted the citizens of that country the legal right to practice sodomy throughout the country in what is now seen as a token of civilization at higher pedestal.
"With the current institutionalization backed up by government authority, it is characteristics of the west to want to impose any newly invented idea by them and considered as civilization on others. This is where President Muhammadu Buhari has to be very careful when he travels to the United States of America," Enabulele said.
The Chief Imam reminded President Buhari that the western imperialists have a way of attracting others to their folds with open carrots while hiding the stick, however noted that major vices like gay marriage, homosexuality, lesbianism and bisexualism which he said are contagious but will never have a place in the cultural and religious behavioural patterns of Africa and indeed the people of Nigeria.
"The Western imperialists have a way of attracting others to their traps with open carrots while hiding the stick. With them, there is no free lunch. Every gift that comes from them is a Greek one. President Barack Obama seems to be desperate in helping Nigeria to get rid of Boko Haram menace, and he has noticed desperation on the part of President Buhari in solving the same problem. No Nigerian interest can ever be a priority for an American president. It is all about self-interest," he added.
He however prayed Almighty Allah to grant the President the strength, wisdom, courage, good health and determination to fulfill all his electioneering promises to the Nigeria people.
In his remark, Edo state Deputy governor, Dr. Pius Odubu, who received the Muslim Ummahs on behalf governor Adams Oshiomhole, commended for the visit and also congratulated them on the successful completion of the one month Ramadan fasting and the Eid-El-Fitri celebration.
Odubu however urged the Muslims faithful not to relent in their prayers to President Muhammadu Buhari and Adams Oshiomhole led government at the federal and state level.

Load more