Maduabuchi Nmeribeh/Kano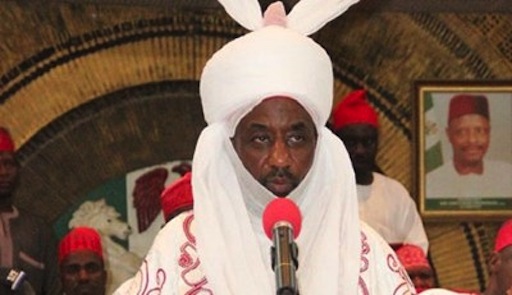 Tears freely rolled down the cheeks of Emir of Kano, northwest Nigeria, Muhammad Sanusi II on Sunday at Africa House, Kano Government House while speaking on the need for mankind to cultivate the culture of transparency, honesty, kindness, fairness and love for humanity and the Almighty Allah since there is another life after death.
The Emir who was in Government House to pay the traditional homage of Hauwan Nasarawa as part of activities to mark the 2015 Eid El Fitr, charged politicians and leaders to remember that everyone irrespective of class and position will be answerable to the Almighty Allah on the day of reckoning, urging them to use their position to impact positively on humanity.
"We have a big burden on our shoulders in the service to humanity. We need to remain trustworthy, honest and transparent in our actions and relations with humanity because at the last day, we shall account for all our dealings before the Almighty Allah," the Emir stated.
"We shall stand before our creator and answer for all we have done in our life time," he added.
He also spoke on the need for enhanced security of lives and property, pointing out that without peace and order, there will be no meaningful development.
Sarki Sanusi 11, also, tasked his subjects on the need to exhibit good character of honesty, trust, transparency and compassion while dealing with their fellow human beings.
He, particularly, urged the state Governor, Dr. Abdullahi Uumar Ganduje to use his office in the promotion of peaceful co-existence among residents in Kano irrespective religious and ethnic affiliations.
The Kano monarch further advised Ganduje to redouble efforts in providing adequate security to the citizens of the state, pointing out that education, health, agriculture, water are critical areas where the Governor should focus his attention.
He also called on the people of Kano to always remain law abiding and be their brother's keeper irrespective of religion or ethnic backgrounds, while challenging the authorities to stand up and face the security challenges bedeviling the society headlong.
The monarch also pledged the total support of the Emirate to contribute its quotas and advise to the Governor Ganduje's administration, just as he congratulated members of the state executive council over their appointments and urged them to justify the confidence reposed in them by giving useful advise that can move the state forward.
In his response, Kano state Governor, Dr. Abdullahi Umar Ganduje said that his administration is poised in the total transformation of the state through introduction of new projects and the completion of other projects inherited from the past administration.
Ganduje who expressed dismay over a new method of begging in the state, described the business as unIslamic, and declared that his administration will resist all attempt to make Kano th headquarters of street begging.
He also revealed that already, he has commenced discussions with President Muhammad Buhari on how best to resettle the Fulani herdsmen at the Falgore.

Load more