…Activist, Dr Joe Okei-Odumakin chooses to celebrate her birthday to mentor children
Kazeem Ugbodaga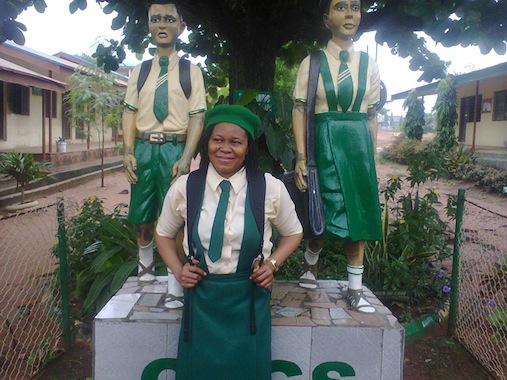 At 49, Dr Joe Okei-Odumakin feels young again. Decked in the uniform of Ojodu Junior Grammar School, Ojodu area of Lagos, Southwest Nigeria, she walked into the school premises like a student. The entire school was in uproar as they saw her in school uniform, making her look like a teenager again. Her petit physique fits that of a student but her facial lineament betrays her.
On the morning of Friday, 3 July, 2015, Joe walked into the school premises wearing a uniform in company of ace actor, Ayo Badmus and immediately proceeded to the Principal's office where she was accorded warm reception which was followed by a mini-photo session.
She was billed to address hundreds of students at the Morning Assembly to mark her 49th birthday. Joe shuns the allure of celebrating her brthday with the opulent class debasing her status to mark it with the young generation who are the future hope of the nation.
A crowd of eager students thronged the morning assembly as they perhaps have never seen an adult adorning their school uniform. At the assembly ground, Joe shuns the dais and files out in line with the students feigning to be the head girl of the school and a JSS 3 student. A teacher in the school led the worship session as the 'adult student' danced with others in joyous mood. Every student wants to get close to her, they perhaps might have heard of her exploit in the world of activism.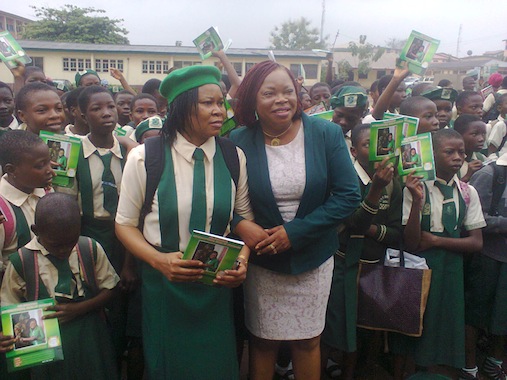 The Principal of the school, Mrs Adebola Kolawole had mounted the dais to introduce Joe in a mock manner as the head girl of the school marking her 12th birthday celebration while wishing her all the best in life, urging other students to follow in her foot steps.
"You have brought many great things to our noble school as the head girl. Our school has done exploit and has become great in this vicinity because of her," she bellows from the podium.
The principal orders the students to sing a happy birthday song for her, which they did in unison and in turn sang: "how old are you now…," which she promptly replied with: "I am 12 years old now…," an action that elicits laughter among the students.
Joe was invited to the dais to give her speech, titled: "Yes we Can."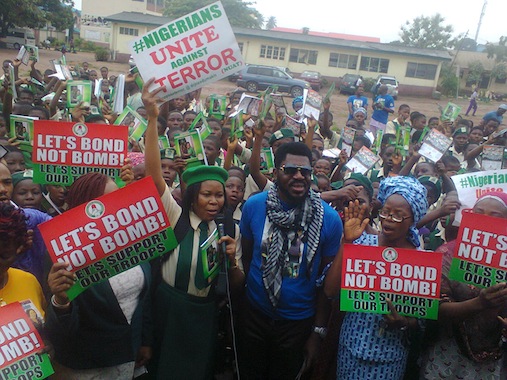 Not new to addressing people across every strata she said: "I decided to come here and I also dressed like a student because I remember when I used to go to school like this. You are in your formative stage and whatever you become in the future starts now. I decided to teach you how to fish than to give you fish. That is why I dstributed exercise books and biros to you.
"As I was coming here, I saw children like you hawking pure water, groundnut and others, but your parents sent you here not to hawk but to acquire knowledge. The essence of schooling is for you to make that change the society desired possible," she mentored the youths.
Joe then raised some posers to which she told the students to chorus "Yes we can." She went on reel out the posers. "Can we ever remain honest as students? Can we remain incorruptible in a corrupt society? Can we study on or own? Can we students in public schools compete with private schools? Are we ready to make the change possible? Can we be positive role model like our teachers? Can we stop meeting sugar daddy? Are we sure that we believe honesty is the best policy and remain honest throughout? Can we as students be proud when we move out of our schools? Can we make positive impact in the society?" The students replied to all the questions with "Yes, we can."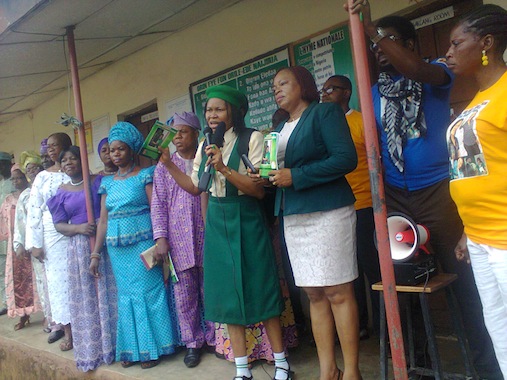 Joe admonished the students to work harder in readiness to be future doctors, lawyers, scientists and the rest, urging that "don't cheat in examination and be determined that you can perform well in your academic endeavour. It was when I listened to speeches that I became what I am today."
The activist called on the government to equip public schools, train and retrain teachers as well as pay them well, urging government to also do a lot in securing lives and property in schools.
Joe delved into the abduction of the Chibok girls over 400 days ago by Islamist sect, Boko Haram, calling on government not to give up on their rescue. She also wants government to ensure that parents of those sending their children to hawk on the streets were dealt with.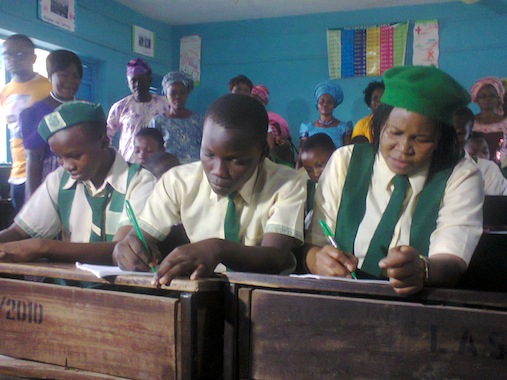 From the assembly, Joe proceeded to the classroom to attend classes. Her class teacher asked her to define the term internet, which she did perfectly.
However, Joe said she felt mentoring the youths would help to bring out their innate talents to become great in the future.
On how she feels clocking 49, Joe said "I feel that life is just beginning at 49, that is why I want a country where there is hope and future so that our young ones will grow."
According Ayo Badmus, the mentorship trait of Joe will sure portend positive aspiration which the youths need to be good leaders in the future as there is the need to teach them how to behave well.

Load more