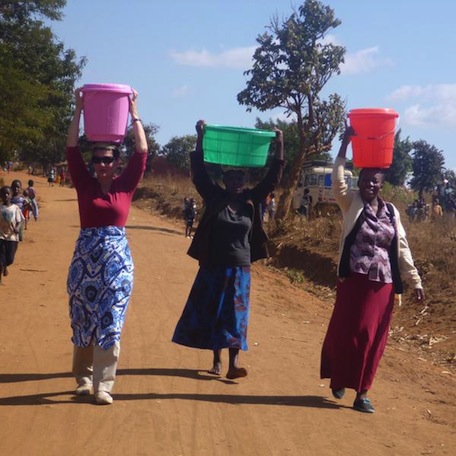 Wife of the worlds' richest man, Melinda Gates showed her love, humility and support for African women by joining Malawian women to fetch water for domestic use during her time there.
Melinda did not just fetch water but she carried it on her head, in typical African style.
She carried 20 liters and and she says "it was tough".
"Chrissy (middle) is carrying about 40 liters. Many women do this every day," she adds.
Melinda and her husband, Bill Gates, founded the largest private foundation in the world Bill and Melinda Gates Foundation in 2000.
The primary aims of the foundation are to enhance healthcare and reduce extreme poverty around the world, and in America, to expand educational opportunities and access to information technology.
The foundation has been supporting water, sanitation and hygiene (WASH) programmes in developing countries, as part of their "Water, Sanitation, Hygiene Portfolio" in the Global Development Division prior to 2011. However, in mid 2011, they announced in their new "Water, Sanitation, Hygiene Strategy Overview" document that their funding now focuses primarily on sanitation (and less on water and hygiene), particularly in sub-Saharan Africa and South Asia, because the access to improved sanitation is lowest in those regions. Their focus areas have been since then: sanitation science and technology, delivery models at scale, and policy and advocacy.
During my stay in Malawi, I joined the women collecting water. Many women do this every day: http://t.co/lN3WMVdfdm pic.twitter.com/upxAWkMADf

— Melinda Gates (@melindagates) August 1, 2015