Members of a suspected armed robbery gang that specialises in snatching cars for an Alhaji, have confessed to the police in Lagos that becoming Indian hemp (Cannabis Sativa) smokers led them into violent crime.
The gang was arrested by the operatives of the Special Anti-Robbery Squad (SARS) of Zone 2 of the Nigeria Police Force based at Onikan, Lagos.
One of them, simply identified as Chukwuemeka, says he was introduced into armed robbery after he joined Indian hemp (Cannabis Sativa) smokers at a popular suburb of Lagos, Ajegunle.
The News Agency of Nigeria (NAN) reports that the suspect and three other members of his gang were arrested on July 23 at Ajegunle, while on their way for an operation.
NAN learnt that they were actually going to snatch a Toyota car when luck ran out on them.
Chukwuemeka, 32, who spoke to NAN at the Zone 2 headquarters, said that having been initiated into smoking Indian hemp he met different gangs involved in violent crimes.
"I regret joining Indian hemp smokers. I am a commercial bus driver, but every evening after work, I go to Bola area of Ajegunle to smoke hemp.
"I met our gang leader, simply identified as Ogaga at the smoking joint. We exchanged telephone numbers.
"And one Sunday, he called me to meet him at Bola that there was a business,'' he told NAN lamenting his involvement in crime.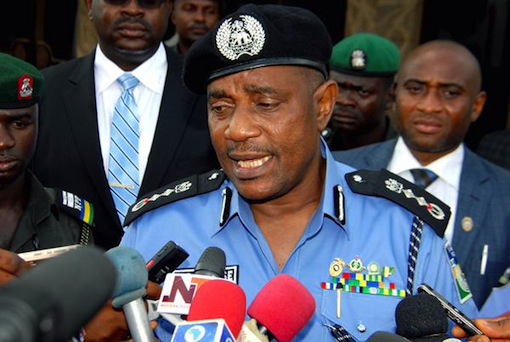 "I left church after Sunday service to meet Ogaga. While at the place, he told me that there is one Alhaji that we will work for and get paid.
"When I heard the title Alhaji, I thought he was a politician.
"Few minutes later, one man came and introduced himself as Alhaji. He told us that he needs clean stolen cars to buy and promised to go with us in the operation.
"Our job is to snatch the car at gun point and escape; and I agreed.
"I regretted coming from the church to where they were planning to go and rob, yet, I agreed to participate in the operation. It is the devil that pushed me.''
Speaking to NAN also, Ogaga, 29, who claimed to be a welder, said he was introduced to other members of the gang while in Ikoyi Prison for a similar offence.
Ogaga claimed that after regaining his freedom from the prison, he got connected to Alhaji Onile, who requested him to recruit men to steal cars for him to buy.
"I live at No. 45, Ojo Road, Ajegunle. I was in Ikoyi prison between 2009 and 2010 for alleged robbery. I was awaiting trial before I was granted bail.
"I was introduced to robbery by one inmate in the prison called Godswill, a.k.a. Commando to Alhaji Onile. It was after my bail that we decided to rob cars for Alhaji.
"We have two locally made pistols and cartridges brought by other members of the gang. I also introduced other members to Alhaji,'' he confessed.
Another of their members, called Daniel, 28, who claimed to be a sailor in Port Harcourt, said he met Ogaga at new Road Bridge, Bola, Ajegunle.
Daniel said he went there to smoke Indian hemp, stressing that Ogaga requested for hemp from him claiming that he had no money to buy that day.
"I bought for him and then we became friends. He told me that he has a contact from prisons that would fetch them money.
"He said he knows one Alhaji who requested them to work for him. We called Aljhaji and he promised to see us the next day.
"Alhaji came and met us in front of Tolu Medical Hospital, Ajegunle. It was at that place I met Chukwuemeka.
"Alhaji said that he would take us to a place where he would show to us nice cars that he wants us to steal for him to buy.
"He gave us N3,000 to take care of ourselves. The second day, he came with his driver and met us at Koriola Street, Ajegunle, close to where we usually smoke hemp.
"We entered his car and were about driving to where we would carry out the operation when SARS men stopped us and arrested everybody.
"I regretted being a member of this gang. We would have carried out the operation, but for the arrest,'' Daniel said.
The last of the four, Oluchukwu, 27, who claimed to be a musician in Anambra, said he came to Lagos to see his brother, Emeka in Ikoyi Prisons.
Oluchukwu said Emeka had been in prison since 2011 for an alleged murder case, adding that his brother gave him Ogaga's phone number to meet him for assistance.
He said he had not been to Lagos before the arrest, noting that Ogaga was to take to him to Ikoyi prisons to see his brother.
Oluchukwu said he was arrested by the police at Cele bus stop, while hoping to see Ogaga who had asked him to wait at the bus stop.
"Unfortunately for me, I was arrested and only to discover that the Ogaga I was to meet was already in the custody of the police."
Reacting to their arrest, the Deputy spokesman of Zone 2 Police Command, ASP Adeyanju Shem, said they were arrested following a tip off.
He said that the police had been on their trail but had only arrested these four and hoped to arrest the rest members of the gang that specialised in car snatching.

Load more