Gbenro Adesina/Ibadan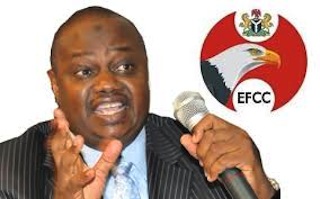 A non-government organization known as'Watching the Watchers', has joined the public debate regarding allegations that Governor Babatunde Fashola spent N73.3 million of Lagos tax payers' money on a personal website www.tundefashola.com as published on the Lagos State public procurement office's website for 2014.
This followed a recent petition forwarded to the Economic and Financial Crimes Commission (EFCC) by a group called the Civil Society Network Against Corruption (CSNAC).
The organisation, through a statement signed by three of its executive members namely, Barrister Samuel Adeola-Ilori-President, Vote for Service Initiative, Steve Aborisade – Executive Director, Projekthope/Media Integrity, Engineer Olumide Alasoadura – Co-convener, Congress of Electorate, said kudos should be given to some advocacy groups under the aegis of BudgetIT for their searchlight on public expenditure that exposed what looked like a colossal amount committed to building and maintaining a website.
However, claiming not to be against probing any corrupt Nigerian, the organization urged Economic and Financial Crimes Commission, EFCC, to be wary of selective prosecution.
It equally charged the civil society groups desiring a wholesale eradication of corruption from Nigeria to match their actions with the responsibility, impartiality and credibility deserving of all effort which questions the integrity of others.
Considering a recent rebuttal by Fashola regarding the claims contained in CSNAC's petition to EFCC, the organization opined that CSNAC should have thoroughly investigated all the allegations levelled against the former Lagos State governor before calling on EFCC to prosecute him.
It said: "This same rebuttal, we realized could have been offered to CSNAC had the group contemplated having the former governor's side of the story. As a private citizen now, CSNAC cannot claim to lack access to Babatunde Fashola, but instead elected to act on an unconfirmed accusation as if they were facts.
We insist we owe Nigerians a stronger sense of responsibility than what is currently on offer, and it is important the group and others with this modus operandi take note of this.
"Looking at the petition the group submitted to the EFCC, we are worried that more than anything, the call for criminal prosecution of Fashola may after all not have any basis beyond mere speculations, as the evidence the group relied on were indeed no evidence at all, being references to media reports on this issue and doubts cast by others on his activities. It is important to note that our society and laws require more than doubts to declare someone as corrupt."
The organization advised that a call for probe of government officials and individual should be supported by objective truth that is incontrovertible, adding, "This is important to separate our activism from politically motivated actions, several of which we have witnessed lately that serve not the interest of the people beyond promoting the agenda of those behind it.
"We may for instance ask why it becomes difficult for a credible anti-corruption group to conduct some fact findings of its own to corroborate wanton accusations before accepting it as objective truth. Why would any organization rely solely on media reports for a petition that can be skewed for ulterior motives as the gospel truth?"
The group denounced the efforts that smack of individual and group vendetta against perceived opponents based on reasons that best serve specific interest emphasizing, "We denounce selective activism in whatever guise and call for absolute integrity in our anti-corruption efforts at the local, state and federal levels."

Load more