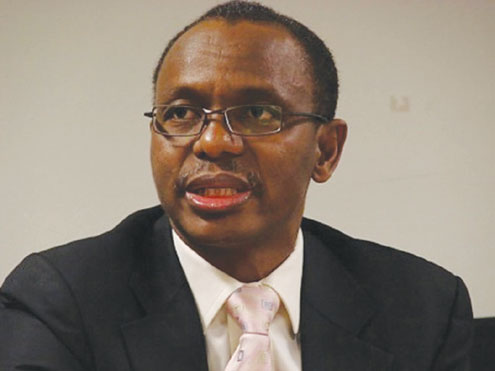 The Gov. Nasiru El-Rufai of Kaduna State, on Tuesday said his administration's resolve to revive the ailing Textile industry was irrevocable.
El-Rufai said this at the opening of the 27th Annual National Education Conference of National Union of Textile, Garment and Tailoring Workers of Nigeria(NUTGTWN) in Kaduna.
The three-day conference has as its theme 'Buhari's Administration: Revival of Textile Industry and Creation of Mass Decent Jobs.'
The governor said it was regrettable that the textile industry which used to employ tens of thousands in the state could now only employ about 1,500 employees.
"This is unfortunate and must be addressed."
He assured the textile workers that his government would ensure that the textile industry was fully resuscitated to it former status.
El-rufai commended the Federal Government's commitment to revive the textile industry in the country.
Also at the occasion, Gov. Adams Oshiomhole of Edo, said that the commitment shown by President Muhammadu Buhari to revive the industry was commendable.
According to him, the move would create thousands of jobs for the youths.
"We are hopeful on President Buhari because of his commitment to the revival of the textile industry,'' he said.
The governor called on the textile workers to give President Buhari full support in the effort to revive the industry.
Earlier, NUTGTWN Secretary General, Issa Aremu, disclosed that a total of 101,700 of textile factories had closed shops in the country.
According to him, past governments did nothing to revive the textile industry.
"It is commendable that Buhari's administration named textile revival explicitly in his campaign promise.''
Aremu quoted Buhari as sayng " still recall with clarity that at some point, the textile industry in Nigeria was employing about 320,000 Nigerians.
" But today, the same industry employs less than 30,000 people and the factories operate below capacity or they are completely closed.
"I have made a promise to Nigerians that jobs will be created as part of efforts to revive the economy and that promise will be fulfilled.
`We will move as fast as we can to resuscitate the textile and mining industries, and also improve production in our agricultural sector…..we cannot allow industries and factories to close down.
"Instead, we should be making every effort to ensure that we re-open the closed ones and attract new ones to reduce unemployment.''
Aremu said the revival of textile industries would halt the activities of smugglers.
"Labour agrees with President Buhari that Nigeria has to break this 'vicious cycle' of corruption unemployment and insecurity in Nigeria before we can make progress.
"All Nigerians are therefore enjoined to support the government in this war against graft, which is the root of all woes including senseless violence engendered by poverty,'' he said.