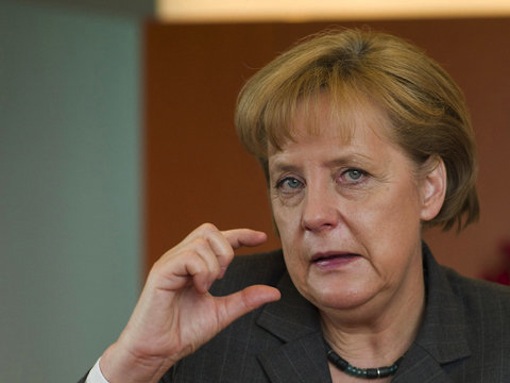 German Chancellor, Angela Merkel, was booed and called a `traitor' Wednesday during a visit to a refugee home to condemn anti-foreigner rioting there at the weekend.
"Germany will not tolerate xenophobia," Merkel said on her visit to Heidenau near Dresden, insisting those escaping war had the right to seek asylum.
"We must direct all our efforts on making clear: There is no tolerance of those who call into question the dignity of other people," she said.
Germany is gearing up to take in a record 800,000 asylum seekers in 2015.
Several hundred anti-refugee demonstrators turned out for Merkel's visit and heckled her.
Several cars driving past the centre honked their horns, and the media were pelted with eggs after right-wing groups called for demonstrations to coincide with Merkel's visit.
It followed a weekend of clashes between police and anti-refugee protesters, who blocked the refugee home and shouted abuse at the residents there.
Standing alongside Heidenau Mayor, Juergen Opitz, the Chancellor condemned the weekend protests as `repulsive and shameful.'
"Everyone facing political persecution or fleeing civil war has the right to be treated fairly when seeking asylum," Merkel said.
Merkel also met with some of the 600 refugees being housed in the newly opened shelter and held talks with volunteers and security forces.
The Chancellor, who faced criticism for not condemning the rioting more quickly, was also accompanied by Stanislaw Tillich, the premier of the eastern state of Saxony, where Heidenau is located.
Violence directed at refugee homes has continued since the weekend with a new asylum centre in the nearby city of Leipzig set ablaze early Wednesday.
Two men also face weapons and trespassing charges after they allegedly broke into an asylum shelter Tuesday in the eastern town of Parchim, carrying a 20.5-centimetre-long knife.
Germany's Social Democratic Party said it received no fewer than 150 abusive phone calls, including a bomb threat, after its leader, Vice Chancellor, Sigmar Gabriel, condemned the protesters during visit to the town on Monday.
Merkel and Gabriel's trips to Heidenau form part of a series of visits this week to refugee homes by German political leaders.
President Joachim Gauck also condemned right-wing extremists and anti-foreigner agitators as damaging Germany's image as a nation open to the world during a visit Wednesday to a refugee centre in Berlin.
Gauck commended the volunteers working to help refugees as `wanting to show that there is a bright Germany'.
He said their action was opposed to the dark Germany that we feel when we hear of attacks on asylum seekers' shelters or xenophobic attacks on people.
"There will be no German who would be prepared to show any understanding for the agitators and arsonists seeking to blemish our country.
"You do not represent us, and we will certainly not tolerate lawbreakers trying to stand for Germany, which today is an open country that is ever ready to lend a hand," Gauck said.