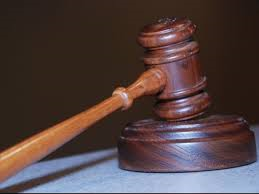 A Gudu Upper Area Court in the Federal Capital Territory, on Wednesday remanded one Ewaoche James in prison for allegedly appropriating N194, 000 belonging to a deceased person.
The accused, who resides at Kugbo village in Nyanya area of Abuja, was arraigned on a two-count charge of criminal conspiracy and cheating.
The Judge, Alhaji Umar Kagarko, ordered the accused to be remanded in prison after he pleaded guilty of the charge.
The prosecutor, Sgt. Mohammed Garba, however, urged the court to enter a plea of not guilty for the accused as police investigation in the case was still on.
Garba argued that trying the accused summarily following his guilty plea would truncate police efforts at tracking the other suspects, who were still at large.
The judge, therefore, ordered the accused to be remanded in prison and adjourned the case to Aug. 31 for ruling.
Earlier, the prosecutor told the court that one Mr John Emeze of Unity Bank, Area 3, Garki, Abuja, reported the matter at the Garki police station on Aug. 21.
According to him, the accused had filled out a fund transfer form with the bank to remit N194, 000 from the account of one late Akena Joseph to his own account.
Garba alleged that the money would have been transferred to the accused's GTB account but on presentation of the form, the bank official discovered that the account did not belong to the accused.
He further told the court that during police investigation, detectives found in the accused Cell phone, bank account numbers belonging to 11 different retirees.
The prosecutor said the accused under interrogation, confessed to have connived with one Segun, now at large, to retrieve the account numbers from the Military Pensions Board, where they worked before their dismissal.
Garba told the court that the accused also made confessional statements that he had previously defrauded other account owners of various sums.
The prosecutor said the offence contravened Sections 97 and 95 of the penal code
Load more