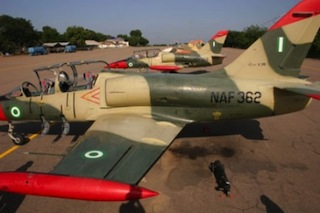 The Nigerian Air Force (NAF), says a Facebook account in the name of the Chief of Air Staff, Air Marshal Sadique Abubakar, is fake.
This information is contained in a statement issued in Abuja on Wednesday by Air Commodore Dele Alonge, Director of Information and Public Relations, NAF headquarters.
The statement urged the public to disregard any information passed through the account on behalf of the Air Force, stressing that the Chief of Air Staff does not operate a Facebook account.
"The attention of the NAF has been drawn to the existence of a Facebook account purported to belong to the Chief of Air Staff, Air Marshal S. B. Abubakar.
"This Facebook account is a fake! The Chief of Air Staff does not have, operate or authorize the operation of such account on his behalf,'' it said.
It advised the public not to transact any business with the operator of the said account, emphasising that it had no relation with the Air Force or any of its principal officers.
The statement, therefore, urged the public to direct all enquiries about the NAF to the Directorate of Public Relations and Information, Nigerian Air Force Headquarters, Abuja.
"The authorised electronic channel of communicating or making enquiries about the Air Force remains the official email address: [email protected]", it said.
The News Agency of Nigeria (NAN) recalls that the Nigerian Army also recently alerted the public on the activities of a syndicate specialising in defrauding the public via fake Facebook accounts.
Load more