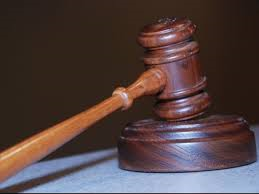 Cyriacus Izuekwe
A female accountant, Mrs Sola Amusu, has been arrested and charged before Isolo Magistrates' Court for paying herself arrears of salary and retirement benefit owed her by her company in Lagos State, western Nigeria.
The 38-year-old Amusu reportedly paid herself salary arrears owed her by her employer, Alfred George Nigeria Limited located in Lekki area of Lagos.
According Amusu, for the past 13 years she worked as the company's accountant, the management has been deliberately owing the staff salary arrears and entitlements for several months.
She claimed that despite making profit, the company preferred to pay the workers a fraction of their salaries and kept the rest.
When the management decided to pay a fraction of salaries to their staff and issued Amusu a cheque of N587,700 in her name, the mother of three, sensing that she and her children had no future if she continued to work in the company, cashed the cheque and converted it to her own use.
She wrote to the company's management informing them of her decision to resign and that she had cashed the cheque and used the money to pay her own salary and other entitlements she was being owed. She even requested for the balance.
She calculated the amount the company was owing her for the past 13 years she worked there. These, she said, include miscellaneous allowances: N300,000; housing allowance: N150,000; salaries arrears: N180,000; and severance benefit: N780,000. These amounted to about N1.3m.
Amusu wrote: "All these are what you are owing me and I will collect from the cashed cheque dated 8 July, 2015, given to me in the sum of N587,700 and I expect my balance."
Angered by her action, the management wrote a petition to the police at Area 'D' Command, Mushin and alleged that Amusu made away with the staff salary.
She was arrested and taken to the command where she told the police what happened.
When the police asked her to return the money, she refused and said it was an opportunity for the company to pay her part of her salary and entitlements.
The police charged her to court for alleged theft and she pleaded not guilty when she was arraigned.
The presiding Magistrate, Mrs A. O. Adebayo granted her bail in the sum of N200,000 with two sureties in like sum.
She was remanded in prison custody at Kirikiri pending when she will perfect her bail condition.
The matter was adjourned till 6 September, 2015.