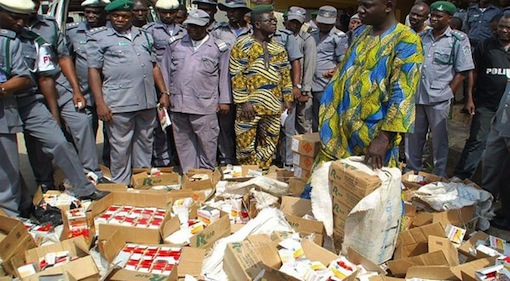 The Nigeria Customs Service (NCS), Federal Operations Unit (FOU) Zone 'C', says it has impounded bullet-proof vehicles and other goods worth N545 million in the last one week.
Mr David Dimka, who made this known to newsmen after displaying the vehicles and goods to them on Thursday in Owerri, said that the agency also arrested five people.
He said that the breakthrough was made barely five days after the Acting Comptroller-General of Customs, Dr. John Atte, addressed customs officials and introduced a new policy christened "Quick Fix".
Atte had said that the "Quick Fix" operation was targeted at meeting the needs of the service, maximizing revenue collection and making the customs more efficient.
A breakdown of the seizure, according to Dimka, showed that 85 bales of second hand clothing with Duty Paid Value (DPV), of N8.16 million, and 373 bales of used school bags with a DPV of N22.47 million, totaling N30.6 million, were impounded along the Aba/Eleme axis.
Also impounded were 13 vehicles comprising nine Toyota Land Cruiser Prado Jeeps, one bullet-proof Toyota Prado Jeep, and three new Toyota Corolla vehicles with DPV of N285.24 million.
Dimka said that other used vehicles and vehicles carrying goods (trucks) with DPV of N110.18 million, two trucks comprising 1,220 bags of 50kg rice worth N22.8million and goods, rice and imported frozen poultry with DPV of N96.7 million, were also seized.
He expressed that while well-meaning Nigerians were happy with the present administration's desire and move to curb corruption, smugglers were busy truncating these efforts.
He said that the customs personnel were now better trained and more equipped to continue to fight smugglers until they were brought to their knees.
The area controller commended the synergy existing between the NCS and sister security agencies in the fight against smuggling in the zone.
He warned members of the public to desist from eating foods that do not have NAFDAC numbers and which they do not know how long it had stayed in the warehouses such as rice.
He also warned people against eating imported chicken because of the method of preservation, saying that they had been confirmed to be injurious to human health.
Dimka further urged members of the public to continue to assist customs men by providing useful information about smuggling, and promised that every information would be treated with utmost confidentiality.

Load more