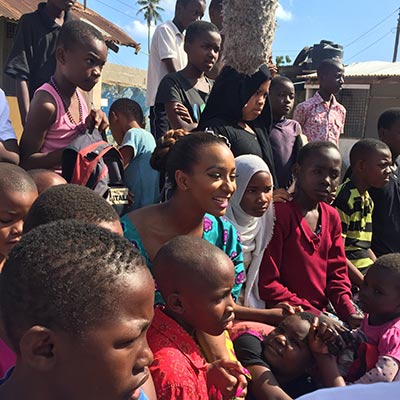 Funsho Arogundade
Nigerian music producer, songwriter and disc jockey DJ Cuppy has moved on to Nairobi, Kenya and Dar es Salaam, Tanzania as part of her 'Cuppy Takes Africa' tour.
The stop in Nairobi was solely based on Charity work at the Kibera School for Girls. The school is the first free primary school for girls in the community. While in Dar es Salaam, she visited a charity community center in Kigamboni Community Center, which provides free nursery and primary education for children without access to public schools.
The ambitious month-long tour started on 1 August in Lagos Nigeria followed by Senegal, Ghana, Kenya, Tanzania and Rwanda would be the sixth country in her tour and will be preceded by Uganda and South Africa.
"Exploring Africa and its vast culture has always been a dream of mine. I am so excited to discover the music, the people and soak in experiences from this tour," Cuppy said in a recent interview.
Aside the concert, the tour aims to give back to the community in each country.
The celebrated DJ is passionate about the education of Africa's future leaders. Through the generous support of the Dangote Foundation, she will visit and donate to schools, orphanage and women centres in every country she tours.
In Kenya, Cuppy visited the Kibera School For Girls with her team and sponsors, The Dangote Foundation and Guaranty Trust Bank. Kibera is the largest slum in Africa, located three miles from the center of downtown Nairobi and home to an estimated 1 million people. The school addresses gender inequality, gives free nursery and primary education to girls and also focuses on community empowerment and health.
In Tanzania Cuppy visited the Kigamboni Community Center (KCC). The center addresses the issues of poverty and the lack of access to education and other learning opportunities for the youth in Kigamboni.
KCC provides free nursery and primary education for children without access to public schools, it also provides a social education, talent development classes and a vocational training programme.
The 'Cuppy Takes Africa' tour chose this centre because of its dedication to fostering talent and creating access to education for its community.
The tour, which encompasses performances, artiste collaborations, press opportunities and charitable engagements, is proudly powered by Guaranty Trust Bank and also sponsored by The Dangote Foundation.
Cuppy is the daughter of Nigerian business mogul Femi Otedola.
Load more