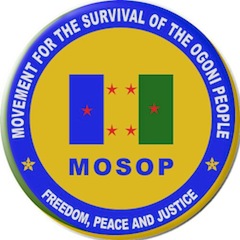 Okafor Ofiebor/Port Harcourt
The Movement for the Survival of the Ogoni People (MOSOP) said it has uncovered an evil plot by internal and external politicians and their cronies to politicize the planned environmental remediation and restoration in Ogoniland.
MOSOP has thus warned the saboteurs to steer clear of the implementation arrangements as any further attempt at undermining the process would be viewed as affront against the collective interest of the Ogoni people and will be decisively resisted.
MOSOP insists that the environmental degradation of Ogoniland, which has compromised its general well-being, is not a political issue and dragging the fast-tracking actions into the murky waters of politics demonstrates inexcusable callousness that should be condemned by all especially lovers of safe and clean environment.
The umbrella body of the Ogoni warns external collaborators who have, and are providing resources including their platforms for the secret, devious agenda to realize that they are known and sooner than later they would be exposed.
"We have come a long way, and we therefore urge all Ogonis to come together irrespective of interest as we cannot afford to falter at this time of seeming genuine interest of government to redress the environmental wrongs against the Ogoni people. We therefore urge all Ogoni people to heed our advice as we would resist all attempts to frustrate efforts at ensuring environmental justice for our people," Leegbosi Pyagbara, MOSOP president said in Port Harcourt.
"The condition in local Ogoni communities where the people reap deaths and face crushing livelihood questions should bother us all. It is in the realization of this that we would have no choice than to sustain our mandate of organizing the Ogoni people for the movement from the Egypt of environmental injustice to the Canaan of environmental security. Those who may think otherwise, no doubt, are entitled to their opinions but must be mindful of the consequences of over-reaching their bounds," he further said.