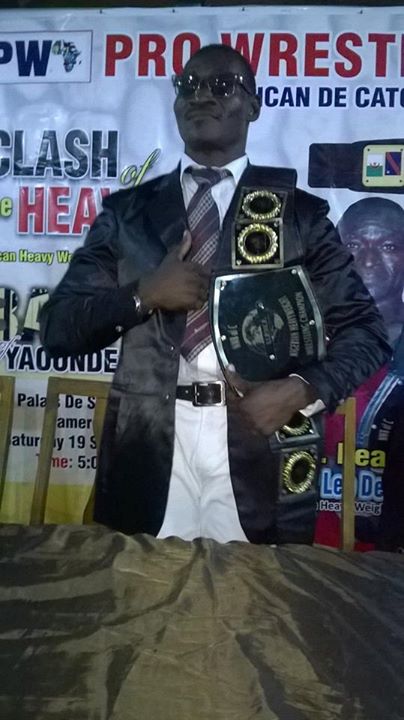 Nigeria's professional wrestler, Ikpide Godspower, popularly called Power Lee, has declared that he is psychologically and physically ready to face Cameroonian champion, Michel Noudem, in an African heavyweight title fight tagged 'Battle of Yaoundé' which holds on 19 September at Palaise De Sports, Yaoundé.
The Nigerian national heavyweight champion said that he is going into the bout, which has been dubbed the 'Fight of the Heavies' by wrestling pundits, as the ambassador of Nigeria, hence his resolve to ensure that he brings the African heavyweight crown to the country, notwithstanding the home support which his Cameroonian opponent will enjoy at the ringside.
"My opponents had always had bad tale to tell since I had been fighting, and Noudem won't be an exception come 19 September. I know he would mobilise his country folks to the ringside, but I have prepared for him. My mission going to Yaoundé is to win the belt," said Power Lee, who had passed through the tutelage of great Nigerian wrestlers such as the late Power Mike, Mike Bamidele, Ben Lion-Heart and Ladi the African Tiger.
The Delta State-born wrestler and body builder noted that his dream has been to fight outside the shores of Nigeria and with the opportunity coming his way in the 'Battle of Yaoundé' under the Pro Wrestling Africa with headquarters in Cameroon, he has been training tirelessly to win the bout.
"That is why I'm calling on Nigerians especially my state governor, Ifeanyi Okowa of Delta State and well meaning Nigerians to rally their support for me because it costs a fortune to prepare and take fans to Cameroon for this fight. I must confess, it costs a lot to fight outside Nigeria. I need the support I can get anywhere now," he pleaded.
Sunny Irakpo of Silec Entertainment Concept, who is promoting Power Lee, said that he believes in the product of Power Lee, hence his determination to ensure that the Nigerian takes a shot at the African title.
"I believe in him. He trained me to become Mr. University during my days in the tertiary institution. He is a role model that needs every
Nigerian's support. Since 2010, we have been lobbying the Delta State government to support Power Lee, we won't relent especially when we have a governor like our dear Okowa in power. We also call on sports philanthropists and corporate organisations to join us in bringing the African crown to the country," Irakpo said.
Secretary of PWA, a Nigerian, Olusesan Olusanya, said that if Power Lee beats the Cameroonian wrestler on 19 September, he will have to defend the title in Nigeria within a month.
"That is why he need the support he can get not only to win this fight, but to prepare ground for a good defence here in Nigeria. Power Lee has told us that he would present the belt to his state governor after the fight to show how the love for Delta has been in his heart.
"To get the ringside support, we have been mobilising Nigerian community in Yaoundé, Douala and some other areas in Cameroon as we expect to have a large number of Nigerians to support our wrestler that day," Olukoya said.

Load more