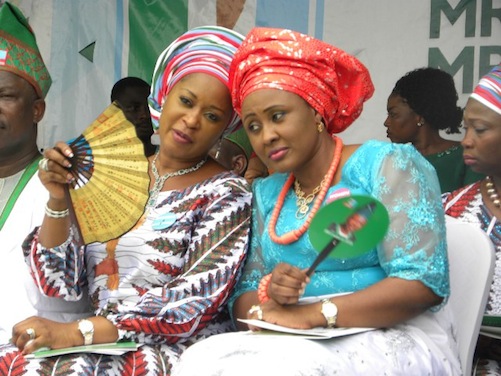 Abiodun Onafuye/Abeokuta
Wife of the Ogun State Governor, Mrs Olufunso Amosun has debunked the rumour on social media that she was arrested for money laundering in the United Kingdom.
She described the rumour as fictitious and was concocted by mischief makers.
She maintained that her moral upbringing and that of her husband, Governor Ibikunle Amosun, will never allow them to be involved in such despicable act.
In a chat with our correspondent early Saturday morning, Olufunso said God would forgive all the rumour mongers and idle minds that conceived and published the false information.
According to her, "I said it yesterday and I continue to wonder the kind of politics some people in this part of the world are playing. Why on earth would a right thinking person (s) or group of idle minds just sit around the corner of the room and concoct such a big lie against another human being?
"I have told the world nothing but the truth. I will never in my life do things that can stain my integrity while my husband,the Executive Governor of Ogun State, Senator Ibikunle Amosun is a man of honour and integrity and a God fearing man. Such will never be our portion in the name of Allah.
"I know what it took us to build this name and never in this life we will indulge in anything that will drag the name of the Amosun empire in the mud.
"We know where all these are coming from but God will forgive them and at the right time, everything will be clear to the people. But I want to reiterate that at no time I or my husband was arrested over money laundering. With what God has done for us, we are contented and will forever be grateful to Him and the good people of Ogun state for the trust they have in us.
"I want to thank you all for your support and prayers and want to, as Oliver Twist, ask for more as we are in the second and final lap so that the rebuilding mission will continue and the things that are still shaky now will soon be normalized."
Olufunso had yesterday denied that she was arrested or detained anywhere in the world for money laundering offence or any crime by security agents.
The First lady debunked the rumour while speaking with newsmen at the State Hospital, Ijaiye, Abeokuta, the state capital, shortly after distributing free milk and other items to expectant and lactating mothers.
She said the milk was donated by the wife of President Muhammadu Buhari to the 36 state governors for free distribution to expectant mothers and breastfeeding mothers at state hospitals across the country.
"The gesture can only come from a woman of passion and empathy in the person of the wife of our President, Hajia Aisha Muhammadu Buhari, who has decided to send milk which is called Frisomum which is actually like a nutritional milk for mothers because she likes breastfeeding babies.
"This particular milk is actually of nutritional value to expectant mothers and nursing mothers and she has sent this milk to all the wives of the governors across the Federation and asked the wives of the governors to deliver them to expectant mothers in state hospitals and this is what I've come to do here today.
"I feel that is a worthwhile and passionate programme. I am very appreciative of what she has done, but I am sure, knowing that she is a lady of compassion, she is compassionate about women in general and there will be so many other things that will follow this soonest," Olufunso said.

Load more