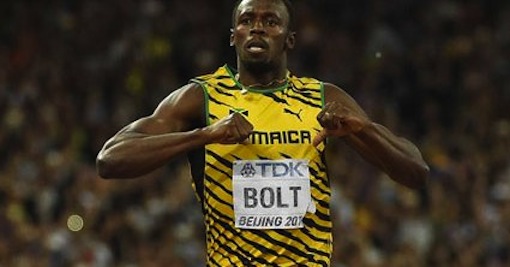 AFP – Usain Bolt capped a memorable world championships by winning a third gold on Saturday as anchor of Jamaica's 4x100m relay team, while the United States were disqualified to hand China a shock silver.
Bolt ran a blistering final leg at a packed Bird's Nest stadium, hurtling through the line in 37.36 seconds after team-mates Nesta Carter, Asafa Powell and Nickel Ashmeade had successfully got the baton around.
The victory gave Bolt his 11th world gold medal — his only blemish being the 100m at the 2011 Daegu worlds, when he was disqualified after a false start.
The US quartet of 100m bronze and silver medallists Trayvon Bromell and Justin Gatlin, and fellow finalists Tyson Gay and Mike Rodgers, were initially awarded silver before being disqualified over a botched final handover which strayed beyond the passover limit.
China, headed by individual 100m finalist Su Bingtian, delighted the home crowd when they were upgraded to silver in 38.01sec, while Canada moved up to bronze (38.13).
There was a distinctly gladiatorial atmosphere in the Bird's Nest as all teams entered the arena through a traditional Chinese facade, passing cheerleaders and flagbearers to be introduced to a raucous capacity crowd.
Racing in lane four, Carter's opening leg for Jamaica saw him slip slightly down on Bromell. Powell ran his second leg in full chase of Gatlin, silver medallist to Bolt in both the 100 and 200m, in lane six.
Ashmeade took up the chase for Jamaica around the back bend, but Gay had his beating and it looked as if Bolt would not have a genuine chance of catching the Americans.
But there was a disaster as Gay's handover to Rodgers misfired and went outside the baton-passing area, leading to the US team being disqualified.
Ashmeade had no such problem with his own baton pass to Bolt, and suddenly the towering Jamaican had a clear run at the line.
Straight into the lead with Rodgers searching in thin air for the baton behind him, Bolt opened up all cylinders to race through for victory at what could be his last world championships.
Not only has Bolt won 11 individual world or Olympic sprint titles from a possible 12 since he took track and field by storm at the 2008 Beijing Olympics, but the 29-year-old has also been a key part of the relay team.
Despite losing to the US team at this year's World Relays, much to Bolt's visible annoyance, the Jamaicans have won all world and Olympic sprint titles since the 2008 Beijing Games, and also set a world record of 36.84sec while winning gold at the London Games.
Load more