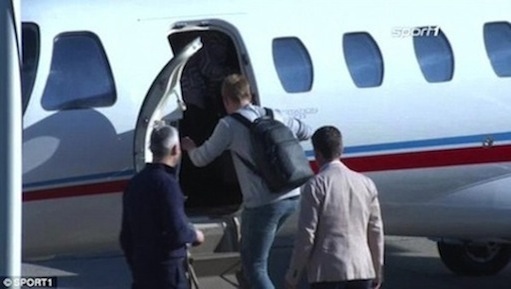 Manchester City's attempts to sign Kevin De Bruyne have taken a step closer after the midfielder flew to England ahead of finalising a move to the club.
The Wolfsburg star was seen boarding a private jet at Braunschweig Airport early Saturday morning with girlfriend Michele Lacroix.
The 24-year-old even had time to sign a fan's Wolfsburg shirt and pose for a picture alongside him before departing for England.
The sighting of De Bruyne follows Friday's development where City expect to sign the Belgium international for £52million within the next 24 hours.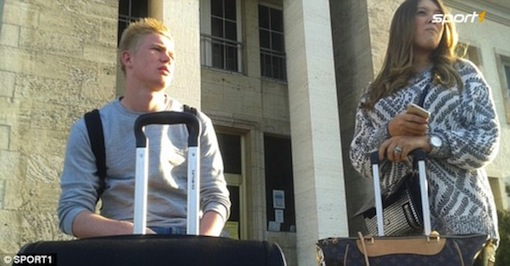 Speaking on Friday Wolfsburg sporting director Klaus Allofs claimed De Bruyne's transfer will be completed 'either tonight or tomorrow' with the attacker a spectator for their 3-0 win over Schalke on Friday night.
Manuel Pellegrini has been chasing the former Chelsea winger throughout the summer and only minor formalities are left to conclude before the transfer window shuts on September 1.
Allofs said: 'We will complete everything either tonight or tomorrow.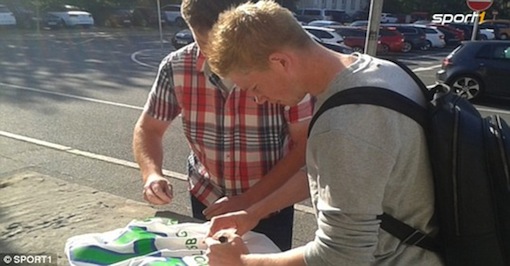 "De Bruyne is off to Manchester City. I explained at the press conference that we had begun talks, those talks have progressed. Now only minor issues remain."
The Wolfsburg chief added, however, that City told him they do not want to announce the deal until after their Barclays Premier League match with Watford on Saturday.
Provided the transfer goes ahead, De Bruyne will become City's most expensive player in history following Raheem Sterling's arrival from Liverpool for £49m.