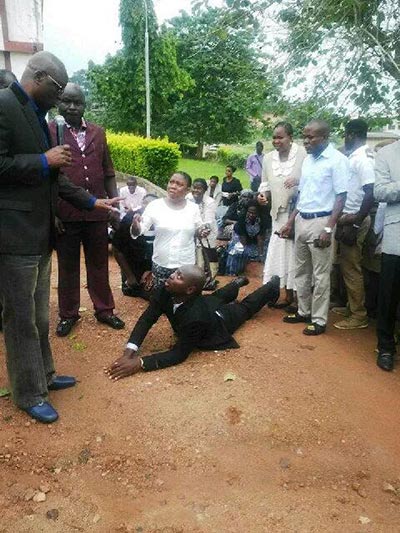 Ekiti State Governor, Mr. Ayodele Fayose, has frowned and warned civil servants in the state to shun every act of lateness and truancy; that, whoever engages in late-coming and truancy may be shown the way out of service if he or she remains recalcitrant.
The Governor, who was at the state Secretariat at 8:00am on the dot Monday, apprehended over 30 civil servants who came late and
directed that a disciplinary committee be set up to try them with appropriate sanctions.
Many of the civil servants on sighting the Governor scampered around to avoid being apprehended.
Meanwhile, the Governor has stated that the unscheduled visit will continue until appropriate discipline has been entrenched in the civil
service; saying, he could be at the MDAs anytime.
He noted that if the government is working round the clock to ensure workers' salaries are paid as at when due in spite of the economic
downturn, the workers should reciprocate the gesture by being alive to their responsibilities.
The Head of Service, Dr. Olugbenga, while reacting said, several warnings, interface and memos have been issued on the need for civil
servants to shun lateness and absenteeism.
He noted that, it is time to enforce strict adherence to the civil service rules; adding that workers have to sit up and reciprocate
the gesture of the government which has made the payment of salaries and allowances of workers its priority.

Load more