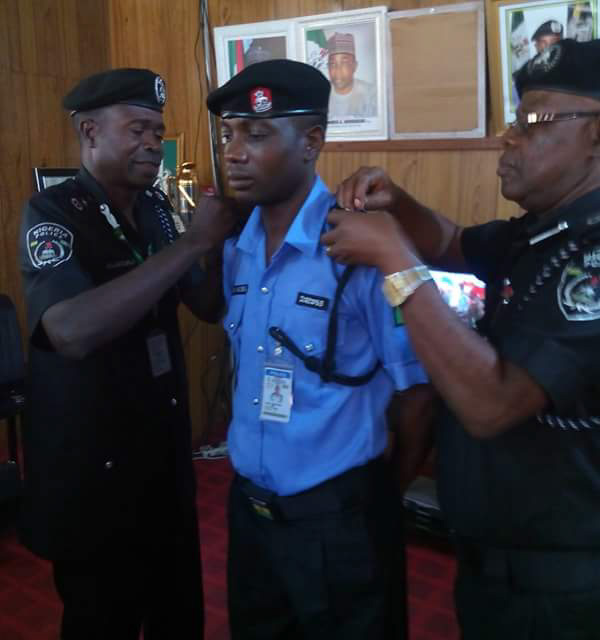 Seven communities in five local government areas of Adamawa were submerged as flood waters from Kiri Dam in Guyuk Local Government Area, swept through the state.
Inspector General of Police, Solomon Arase received a pleasant surprise during his one day working visit to Bauchi State Police Command on 22 July, 2015 as one of his men, Sergeant Godwin Hosea presented a bullet proof jacket which he manufactured to him.
The bullet proof jacket which was manufactured locally and at an affordable price was presented to Arase during a lecture parade at the Bauchi Police Command State Headquarters.
As a result, a visibly happy IGP instantly promoted the Sergeant to the rank of Inspector with effect from that date.
However, Sgt Hosea was decorated with his new rank today.
While decorating the newly promoted Inspector, the Commissioner of Police Bauchi State Command, Mohammed K. Mohammed urged him to rededicate himself to duty and reciprocate the gesture done to him by the Inspector-General of Police.
He further enjoined other officers and men to emulate the newly promoted officer and harness their God given talent in order to move the Force and the Nation forward.
Mohammed also thanked the IGP for making welfare of the personnel a top priority in his administration.
Editor's Note: We apologise for any inconvenience that the earlier story published may have caused our readers. Thank you for understanding.

Load more