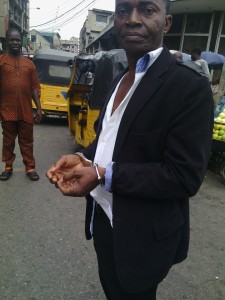 Paul Iyoghojie
A Lagos-based legal practitioner, Christopher Uzoamaka, aka Americana, has been re-arraigned before a Tinubu Magistrates' Court, Lagos, western Nigeria, for allegedly fingering the private part and anus of a 9-year-old girl inside Court 4, Tinubu Magistrates' Court, without her consent.
The incident, according to the police, occurred on 12 August, 2015 when the grandmother of the victim came to the court to attend to her civil case pending in the court.
The accused was alleged to have lured the victim to an alley inside the court to allegedly commit the offence. The cry of the victim, according to investigation, attracted the grandmother who reportedly asked her daughter what happened to her.
The victim, it was alleged, told her mother that the accused fingered her private part and anus inside the court which caused her pains.
Following the development, the Chief Magistrate in charge of Tinubu Magistrates' Court, Mrs. G. B. Ayeye, ordered a police prosecutor, Sgt. Francisca Okere, to arrest the lawyer and take him to the Lion Building Police division for proper investigation.
The lawyer was handcuffed and taken to the station. The lawyer was first arraigned before Tinubu Magistrates' Court on 13 August, 2015 on a three-count charge of indecent sexual assault on a 9-year-old girl.
The accused pleaded not guilty to the charge and was admitted to bail.
When the matter came up on Monday, 31 August, 2015, the police prosecutor, Sgt. Koti Aondohemba, informed the court that the police have amended the former charge against the accused and the accused was re-arraigned on a four-count charge of felony to wit: unlawful fingering and penetrating inside the private part and anus of a 9-year-old girl without her consent at the Tinubu Magistrates' Court.
Aondohemba noted that the offences were punishable under sections 259, 261, 263(1) and 134(1) of the criminal laws of Lagos state, 2011.
While the complainant was represented by Bar. Jude J. Ozemhoya, the accused was not represented by any legal counsel and he pleaded not guilty to the charges.
He also pleaded with the court to have mercy on him and admit him on bail on liberal terms, saying he has been suffering in prison custody since his first arraignment as nobody came to his rescue.
Magistrate Mr. L. Owolabi admitted him on bail in the sum of N400,000 with two sureties in like sum, one of whom must be a legal practitioner of over 10 years in practice.
Owolabi adjourned the case till 24 September, 2015 for mention and the defendant was taken back to Ikoyi prison, Lagos pending when he will fulfill his bail conditions.