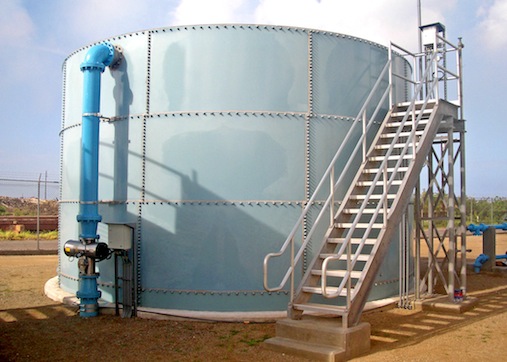 Reuters – Demand for crude storage in the Caribbean, one of the world's most important oil hubs, is rising as producers and traders try to ride out the worst price crash in six years by holding onto more barrels or making blends that can be sold for premiums.
The last time tanks in the logistically-important islands were this full, during the price collapse of 2009, companies started leasing vessels to use as floating storage.
That is not yet happening now, but the only way to get tank space at the moment is to sublease it, said one tank broker with decades of experience.
Since June, his firm alone has received requests to lease up to 7.5 million barrels of tankage in a region with some 100 million barrels of capacity. That is much more than in previous months, though no official statistics are available.
Others signs also point to a shortage of tanks. Midstream players Buckeye Partners LP and NuStar Energy LP say they have basically run out of space. And some producers with terminals in the zone say now is a good time to put barrels into tanks and wait for U.S. crude prices to rise from $40-a-barrel doldrums.
"All tanks are subscribed," said the storage broker. Things have not looked this tight in six years.
Crude inventories have been building up in recent months in most terminals, leaving limited space for subleasing, which could imply higher rents, he said.
"We are at 100 percent capacity", said a spokesman from NuStar Energy, referring to bookings at the company's terminal in St. Eustatius, with tankage for 13 million barrels.
Nustar, which in 2014 gained Venezuela's state oil company PDVSA as a customer, is already in discussions to extend a contract set to expire in early 2017, he added.
Buckeye Partners, which has about a third of the region's storage capacity excluding tanks for refineries, has already leased out tanks it is adding in St. Lucia. It is also converting product tanks for crude in the Bahamas.
"We expect those growth projects to be fully operational later this year. And those are all contracted under term agreements," Khalid Muslih, head of Buckeye's terminals business, said on the company's July results call.
PDVSA, Brazil's Petrobras and Royal Dutch Shell regularly use Buckeye's terminals in St. Lucia and the Bahamas, according to Thomson Reuters trade flows data.
The companies did not comment.
CONTANGO INCENTIVE
The oil market's contango structure <0#CL:>, where barrels for delivery later in the year are priced higher than prompt supplies, is providing a financial reason to store and hedge. Traders bet prices will rise after a 60 percent slide.
"The observable forward market provides a good indication of the incentive to store physical barrels," said a spokesman for Statoil, which manages a terminal in Bahamas.
Storage is such a good business right now that owners of the shuttered Hovensa refinery, Hess Corp and PDVSA, are making moves to sell it for use as a terminal, local media reports say, while U.S. Valero Energy confirmed that tanks at its shuttered Aruba refinery are "active" as well.
A Hovensa representative did not comment.
Terminals in Bahamas, Bonaire, St. Lucia and St. Eustatius that do not serve refineries received some 15.25 million barrels of crude from June, when prices started to fall, through July, according to Thomson Reuters data. They shipped out 12.16 million barrels in the same period, showing a rise in inventories.
U.S. IMPORTS FROM CARIBBEAN SOAR
A bigger amount of those inventories in the Caribbean have arrived in the United States since the middle of the year, attracted by low freights costs.
In July, the United States received 8.37 million barrels of crude from the Caribbean, a 37 rise from May, according to Thomson Reuters trade flows data.
Brazilian crude exports from the Caribbean to the United States more than tripled in that period. At the same time, Colombian, Angolan, Trinidadian and even rare Belize grades arrived on U.S. Gulf, East and West Coasts, the data shows.
Trading firms Vitol, Gunvor and PetroChina have also actively been moving Latin American and African oil to and from the islands, the data show.
Much of the storage demand comes from PDVSA, which uses five spots in the area to blend heavy and light crudes into more marketable ones.
PDVSA has been blending and storing more in Curacao and Saint Eustatius while buying Russian and Nigerian oil, according to internal reports and vessel tracking data.

Load more