Jethro Ibileke/Benin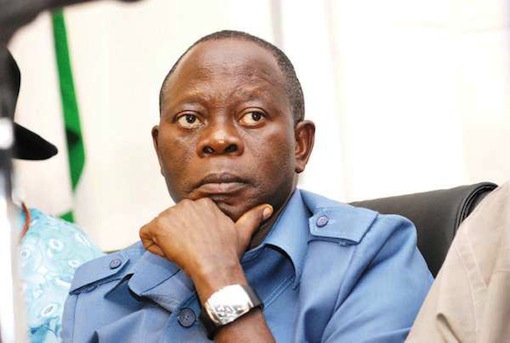 The verbal war spearheaded by Governor Adams Oshiomhole of Edo state against the immediate past administration of former President Goodluck Jonathan and his ministers is still gathering momentum, following the governor's declaration that he stands by his earlier statement that about N140billion was reported to have been expended on the Second Niger Bridge by the Jonathan's administration without anything to show for it.
Oshiomhole's latest cannon was fired in a press statement issued on Monday in Benin, by his Chief Press Secretary, Peter Okhiria.
"The revelation came from those who were managers of the Sovereign Wealth Funds and not figures manufactured by anybody. They told our Committee that about $700 million was taken from the Sovereign Wealth Fund for the Second Niger Bridge project."
The governor said rather than crucify him for the disclosure, the former Minister of Works should direct his energy and explanation to the managers of the Sovereign Wealth Fund who have depleted the savings on the explanation that it was meant for the Second Niger Bridge.
The press statement reads further:
"Fully aware that not much has been achieved on that project, Onolemhemen and the managers of the Sovereign Wealth Funds should explain to Nigerians what really transpired, instead of asking Comrade Oshiomhole to apologize to Nigerians. The real people who should apologize to Nigerians for their many sins
against the country are those who expended so much of our resources without any corresponding achievements to show for it.
"Any right thinking Nigerian should be ashamed of the state of Nigerian roads, especially with the enormous resources budgeted for road rehabilitation and construction. Rather than build new roads and rehabilitate them, they vandalized existing roads and made them almost impassable.
"In Edo state, the Aduwawa end of the Benin-Auchi road is almost impassable especially during this rainy season. As we speak, erosion has cut off the Benin-Auchi road into two and motorists are going through hell passing through that road. What about Benin-Abraka road; one hell of a road completely abandoned and vandalized.
"In the name of politics, they came trying to impress Edo people but ended up depressing all of us. When we complained of utter neglect of Edo state in the scheme of things, they hurriedly brought caterpillars to site and vandalize the roads, pretending to be working. If you visit Federal Government roads today in Edo State, you will weep for Edo people.
"People should find time to pass through Uromi-Agbor road, a major highway connecting the Eastern part of the country, it is an eye sore. Yet, we had a Minister of Works who hails from Uromi.
"Former Minister Onolemhemen should explain to
Nigerians how he expended the billions of naira that were budgeted for the Ministry of Works, because what we have on ground as a product of such expenditure cannot score for any pass mark. Roads from Oyo to Ilorin, Ilorin to Jebba and Bida, from Ore to Ijebu-Ode, from Ikom to Calabar, Onitsha to Enugu are amongst the several roads that explain the sad commentary on the state of Nigerian roads.
"Aside from being death traps, they represent in graphic terms, the poor performance of the last regime in terms of roads construction and rehabilitation. Rather than hide his head in shame; Onolemhemen is still oozing out diatribe against Nigerians. We deserve explanation and no amount of blackmail can stop us from speaking out about the fate of our country."

Load more