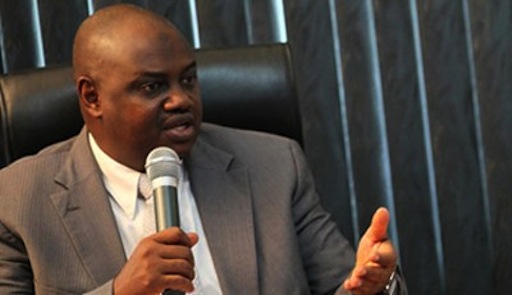 While being interviewed in a programme on African Independent Television, AIT Wilson Uwujaren, the Economic and Financial Crimes Commission, EFCC spokesperson, was pitched against George Uboh who has lately been in the news for his campaign against the agency, and particularly its Chairman, Ibrahim Lamorde. It was a stormy session which would probably have ended in fisticuffs but for the skillful handling by the programme's hosts.
Uboh came armed with a bulky envelope from which he kept producing documents to support his statements which were mainly about EFCC and Lamorde's financial and operational misconducts courtesy of which monies running to over a trillion Naira had allegedly not been returned into the country's coffers. But the EFCC spokesperson would have none of it.
He referred to Uboh severally as a man of no credibility who was only out to denigrate the character of the EFCC boss whom he maintained had a clean record. According to him, Uboh's basic arithmetics must be extremely deficient, for him to have believed in the possibility of Lamorde or EFCC misappropriating N1 trillion or more in the first place. He stated that if Uboh knew what a trillion naira was, he should have realized that not being able to account for such a colossal sum was an impossibility with the anti-corruption agency. He emphasized the unreasonableness of Uboh's allegations, stating that the EFCC is already preparing its defense by compiling facts and figures which would soon put a lie to Uboh's claims.
Uboh, who had earlier sounded quite sure of his facts concerning the many misdeeds of the EFCC and its boss, was visibly deflated after his admission that he actually spent some years at a US prison in the 90s. He admitted that he was arrested at the period over credit card fraud and for allegedly being caught in possession of a fairly large quantity of heroin. He tried to explain further that although he was jailed, his prosecution was somewhat twisted because the heavier charge of drugs possession was actually dropped while his prosecutors decided to nail him based on the credit card crime only. At the end, Uboh's explanation was neither here nor there.
Although he stated that his being an ex-prisoner had nothing to do with the facts he wanted to establish concerning the EFCC rot, he lost some steam afterwards and did not sound as convincing as he was earlier in the programme. Uwujaren stated that Uboh was up to his present antics of false accusations because he had an appointment next month (October) with the EFCC in court.
However, Uboh, who still managed to appear determined at the end of it all declared that he would give whatever it takes to ensure that the anti-corruption agency is made to pay for the financial irregularities. 'I am ready to die for these monies to be recovered,' he said.
At the end of the volatile interview session, when the hosts asked the two interviewees, Uwujaren and Uboh to shake hands and depart as friends, at least from the studio, the EFCC spokesperson declined. 'I cherish my integrity,' he stated, as he stepped out of the studio.