It was a night of glamour and elegance filled with #OnlyTheBest in African entertainment when MultiChoice Africa kicked off its second #OnlyTheBest Content Showcase Extravaganza in spectacular style at the Outrigger Resort in Mauritius.
The star-studded guest list read like the who's who of Africa's entertainment and media.
The guests walked down the African media Walk of Fame onto a red-carpet that opened up to a sensational night of dazzling entertainment. The event, dubbed 'Night of a Thousand Stars' saw all the glitz and glamour of Hollywood, Bollywood and Nollywood come to life on the island, as guests that include Genevieve Nnaji, Rita Dominic, Desmond Elliot and Ramsey Nuoah light up the event.
Flavour, Stonebwoy and The Mavins kept the guests on their feet with hit after hit while the night's MCs IK and Eku kept the glamorous proceedings running smoothly.
Guest also experienced host IK who also brought his popular show, High Lites with IK, to the stage in Mauritius with a delightful interview with Nigerian crooner Banky W alongside music by DJ Sose.
MultiChoice Africa's CEO Tim Jacobs also took to the stage to welcome guests with a promise that the video entertainment service provider will do all it can to make only the best content available to its subscribers on all platform and on any device every time.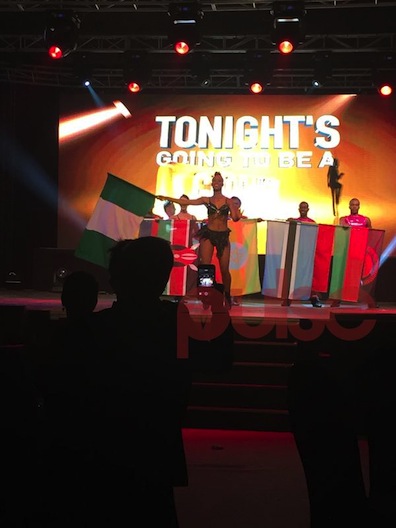 "We believe television is an extremely powerful tool that can educate, entertain and inform. The evolution of this medium has become fast and furious and as a business we are constantly evolving to stay ahead," said Jacobs at a glittering 'Night of a Thousand Stars' event. "MultiChoice's business is built around three key pillars: people; content – in the form of great entertainment, news and sport – and the latest cutting-edge technology. Our mission is to ensure that our subscribers do not miss out on any of the stories, events or moments that are shaping our future."
Jacobs lauded the success of MultiChoice's GOtv DTT (Digital Terrestrial Television) offering, which currently operates in eight countries, bringing low-cost digital television to homes and supporting governments in freeing up vital broadcast spectrum by switching from analogue to digital signal.
He also acknowledged the challenges which the business faces. "ss,qq,qqnvqdOur growth over the last 20 years has been a result of massive investments we have made in people, content and technology – but as with any business, not all of these investments or changes have hit the spot…. so we have from time to time re-evaluated our position and made changes to our strategies. At the end of the day however it is really our subscribers we have to thank for staying with us, trusting us to deliver the best television experience and customer service to make their experience world class," said Jacobs.
M-Net Regional Director West Africa, Wangi Mba-Uzoukwu, reminded guests that M-Net has a near 30-year history on the continent, where it started with a daily 12-hour broadcast on a single channel. Now, having changed the way television is viewed across the continent, the broadcaster leads the way in producing, acquiring and showcasing the best entertainment content in Africa. "Our first broadcast in 1986 led to other firsts like the launch of SuperSport and the Mzansi Magic, Zambezi Magic, Jango Magic and Africa Magic channels; and with the creation of exciting, genre-defining and iconic content like Carte Blanche and Tinsel, M-Net continues to shape cultures, build bridges and empower talent across Africa even as we remain synonymous with all things entertainment on the continent," said Mba-Uzoukwu.
She echoed Jacobs' sentiments about the need for constant evolution, to stay ahead of the video entertainment service provision field. "We are launching and redefining channels and we continue to expand our content offerings to viewers across the continent. Our ongoing and significant investments in local productions have positioned Africa on the entertainment global arena and with new technology we continue to reach even more people, ensuring that no one ever misses the M-Net Magic. Our investment drive remains geared not only towards the industries in which we play, but also in the people who power them," said Mba-Uzoukwu.
The MultiChoice Africa Content Showcase is a dynamic 5-day content extravaganza, which sees a host of DStv's and GOtv's biggest channels, including Sony, SuperSport, Zee World, A+E, Disney, MTV Base, BET, Comedy Central, BBC and M-Net previewing their latest and greatest content, soon to be seen across the video entertainment services provider's platforms. To keep track of happenings at the MultiChoice Africa Content Showcase, follow @multichoice_africa on Instagram, @mcashowcase on Twitter, or via #OnlyTheBest.

Load more