Akin Kuponiyi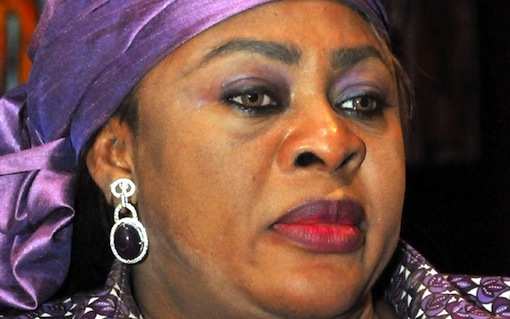 In bid to forestall her arrest and further investigation into the procurement of two bullet proof cars purchase by Nigeria Civil Aviation Authority,NCAA, during her tenure as aviation minister,the former aviation minister Stella Oduah has dragged Economic and Financial crime commission(EFCC) before a Federal high court in Lagos, South West Nigeria.
Joined as co-respondents are Attorney General of the Federation, Independent Corrupt Practises Commission,and Inspector General of Police.
In an affidavit sworn to by Humphrey Enechukwu who is the Director of Finance and Accounts of Sea Petroleum and Gas company on behalf of the former aviation minister and filed before the court by Mr Ajibola Oluyede,the deponent averred that during her tenure as aviation minister,at first the Aviation ministry had to approach embassies for the use of their armoured vehicles to carry their nationals who were on international civil Aviation Organisation (ICAO)inspection teams.
Thereafter two security vehicles were appropriated for in the 2013 budget for the NCAA and NCAA bought two armoured BMW cars at the cost of N160million by equipment lease structured loan from First Bank Plc, the vehicles were in the name of the bank until the loans were fully repaid in instalment over a period of three years.
Since she left office there have been two succeeding ministers appointed and despite intensive scrutiny by law enforcement agencies,of the ministry's activities during her tenure, no allegations of committal of any crime has been made against her nor substantiated by the investigators.
However Enechukwu alleged that, hiding under the cover of nebulous and faceless organisation, spurious petitions were written to the house of representative and law enforcement agencies accusing her of all manner of crimes as minister,one of such allegation was false accusation that the armoured vehicles were bought for her personal use.
Consequently, the house of representative set up committee headed by Mr Aminu Tambuwal who sat four times to investigate the matter and the committee determined to malign her and deliberately disregarding the available and true facts concluded as follows:
-That there is no provision for armoured vehicle in Nigerian law for a minister.
-The said two cars were illegally imported into Nigeria as document to show their waiver cannot be substantiated by either custom or ministry of finance
-Due process was not followed in the entire transaction by ministry of Aviation and NCAA
The committee then recommended that the president should review the continued engagement of Stella Oduah having contravened section 13 of appropriation and approved revised thresholds by exceeding her approval limit of N100million with the purchase of 54 vehicles value at N643million.
Consequently, the applicant contended that unless the court intervenes to protect the her fundamental right, the All Progressives Congress APC will unleash the repression against her.
The applicant then urged the court to prohibit the respondents from inviting, arresting, prosecuting her in respect of any allegation of corruption which has been the subject of investigation by EFCC concerning her stewardship as minister for Aviation between 2011 and 2015
Meanwhile, the presiding judge Mohammed Yunusa while adjourning till 2nd of Octber,2015 for hearing has ordered that all the court process should be served on the respondents, while the respondents have also been directed to stay all action in the matter pending the hearing and determination of the substantive suit