Abiodun Onafuye/Abeokuta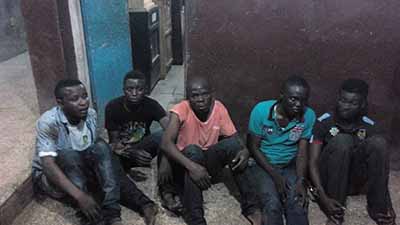 Hard times await suspected cult members in Ogun State, western Nigeria, as the police operatives deployed by the State Commissioner of Police, Abdulmajid Ali, have arrested 120 of them at various locations in the state in the past two days.
The operatives attached to Agbara Division of the command on Sunday arrested 84 suspected cultists in a forest at Imoshe, Igbesa, Ogun state while they were allegedly initiating new members.
In a statement on Wednesday from the Command and signed by the State Police Public Relations Officer, PPRO, DSP Muyiwa Adejobi, operatives in Ifo Divisional Headquarters also arrested ten suspected cultists with arms and ammunition on Monday during initiation at Ifo in Ifo Local Government Area of the state.
It was further stated that three suspected cultists were also arrested at Ilaro by policemen on anti-crime patrol also on Monday during their meeting in a hideout.
Also, an anti-crime squad which was deployed to curtail the cult activities in Abeokuta, the state capital on Monday, arrested 30 suspected cult members after the killing of Babatunde Alamutu, a.k.a. Emir, in Ago Odo area of Abeokuta.
In addition, working on a tip off, the Special Anti-Robbery Squad, SARS, Ogun State, swooped on some suspected members of a cult group called Seadogs at Ijeja area of Abeokuta at 6pm on Tuesday and arrested five of them.
The suspects are: Adegbenro Sadiq, Adebayo Olajide, Sholeye Segun, Odejinmi Yusuf and Emmanuel Ajadi.
Some of the items recovered from them included assorted charms, bottles of dry gin, broken bottles and items meant for initiation.
The suspects arrested with arms have allegedly confessed to the crime and the state police boss, Ali has directed that the suspects be handed over to Department of Criminal Investigation and Intelligence, DCIID, Eleweran, Abeokuta for proper investigations and prosecution.
Ali vowed to go after hoodlums and criminals who are terrorising the good people of the state, adding that he will not give them any breathing space within the Gateway state.