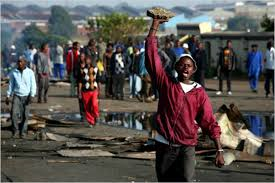 Prince Emeka Ojukwu, the founder, Music Africa Awake (MUAFA) based in South Africa, on Thursday said that African music was used to quell the xenophobic attacks in South Africa.
He told the News Agency of Nigeria (NAN) in Abuja that MUAFA played an important role by using music to quell the attacks and reprisal reactions from other African countries.
"When the xenophobic attack was on in South Africa, we discovered that other Africa countries wanted a revenge, which was so bad for Africa.
"So, we wrote to Jacob Zuma, South African President, and he gave us a platform to organise a music concert tagged Africa Unite''. That concert gathered music artistes of different cultural backgrounds and countries in Africa.
"First, we used our songs to say sorry to the people and countries affected by the attacks. And then we used African songs to preach the message of unity, love, peace and tolerance,'' he said.
"We reminded Africans, especially South Africans that we are people brought together by God in one continent.''
Ojukwu said that the artistes preached to Africans in South Africa through their music that there was no need hating or fighting each other or seeing each other as a threat.
"That concert, to a great extent quelled the xenophobic attack in South Africa that nearly sparked off retaliatory reactions from other African countries.
Ojukwu, a Nigerian, who resides in South Africa, told NAN that the MUAFA which he started in 2010 was now in over 11 African countries.
"I founded Africa Music Awake in South Africa to promote and repackage the African heritage using music and other things that define Africans. We were able to take MUAFA from South Africa to other Africa countries through their respective embassies in South Africa.
"We shared with them who we are and what we do and they encouraged us. We export African cultures from one country to another to promote regional integration and accept each other. We engage in music, cultural exchange, food and cultural exhibition,'' he explained.
The Nigeria chapter of the MUAFA was inaugurated recently in the Federal Capital Territory (FCT),
Load more