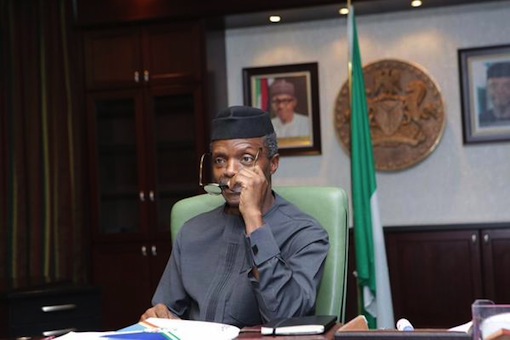 The Vice President of Nigeria, Professor Yemi Osinbajo (SAN) is way richer than the President of Nigeria, Muhammadu Buhari who's liquid worth is put at less than N30 million as at 29 May, 2015.
According to his asset form by the Code of Conduct Bureau (CCB), who had been a successful lawyer before his foray into politics declared a bank balance of about N94, 000, 000 (ninety-four million) and 900,000 United States Dollars in his bank accounts.
As revealed by the same form, Osinbajo's asset declaration include his 4-bedroom residence at Victoria Garden City, Lagos and a three-bedroom flat at 2 Mosley Road, Ikoyi.
The Vice President also has a two-bedroom flat at the popular Redemption Camp along Lagos-Ibadan Expressway and a two-bedroom mortgaged property in Bedford, England. Aside from these, the Vice President has no other landed properties on the form.
Apart from his law firm, known as SimmonsCooper, the Vice-President also declared shareholding in six private companies based in Lagos, including Octogenerium Ltd., Windsor Grant Ltd., Tarapolsa, Vistorion Ltd., Aviva Ltd. and MTN Nigeria.
"According to details shown on the form, the Vice-President has about ninety four million naira, nine hundred thousand US dollars and nineteen thousand pounds in Nigerian Banks with the foreign currencies kept in local domiciliary accounts."
His personal vehicles are one Infinity 4-Wheel Drive SUV, one Mercedes Benz and a Prado Jeep.
"As soon as the CCB is through with the process, the documents will be released to the Nigerian public and people can see for themselves," a source said.