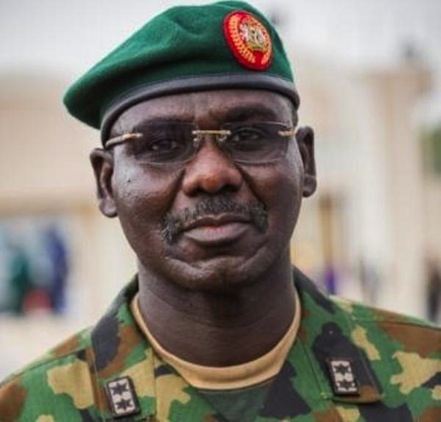 The Nigerian Army has pledged to ensure strict compliance with human rights regulations and discharge its duties according to constitutional provisions.
The Chief of Civil Military Affairs, Brig.-Gen. Rogers Nicholas, made the assertion on Thursday in Abuja when he visited Prof. Bem Angwe, the Executive Secretary of the National Human Rights Commission.
"The Nigerian army now has a new face. It is now a responsive Nigerian Army that discharges its responsibilities according to the constitution of the Federal Republic of Nigeria.
"The Nigerian Army is now an army that respects the rule of law that is why the present army has recalled the soldiers that were wrongly dismissed."
Nicholas said the visit was to expand areas of existing collaboration between the Army and the commission and to encourage more cooperation and dialogue where there was friction.
In his remarks, the executive secretary noted that a relationship between the Nigerian Army and the commission was by and large a relationship between the Nigerian Army and the Nigerian people.
"This is so because the commission is the custodian of the rights of the Nigerian people.
"So if the army has a mutual relationship with the commission, it by extension, has a mutual relationship with the people because the commission is the home to all Nigerians."
Angwe said this was the first time in the history of the Nigerian Army that its leadership was willing to submit itself to civilian authority.
He said that it was a remarkable demonstration of the fact that the change Nigerians were craving for had actually come.
He, however, expressed concerns that some officials of the army still continued to violate the rights of Nigerians and appealed that this should be addressed.
"The commission will not unjustly criticise the Nigerian Army but it is forced to do so because of the way and manner some officers still violate the rights of citizens."
He urged all Nigerians to continue to support the army in the discharge of its duties, adding that the role of the army in curbing insurgency would not be forgotten in history.

Load more