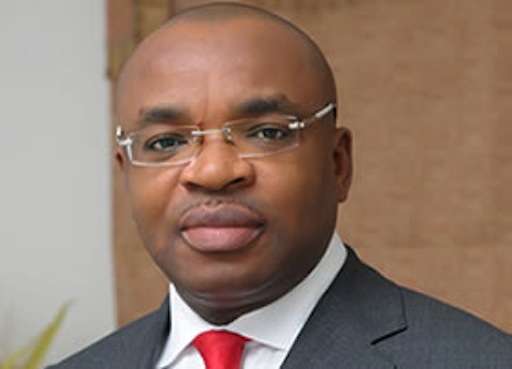 Barrister Bassey Okon Willie, a witness for the Akwa Ibom governor, Udom Emmanuel and the PDP, told the governorship tribunal sitting in Abuja on Friday that he signed all the result sheets for Oron Local Government Area, contradicting the statement made by another witness, Elder Effiong Atanang.
Willie who admitted that he was the Local Government Collation Agent, noted that, he signed the result sheets for Ward 4, even though Elder Effiong Atanang was the PDP Ward 4 collation agent.
His testimony however contradicted the disposition of Elder Effiong Atanang, who also claimed to have signed the Ward 4 result.
Willie said the result sheets were signed by one agent because other ward collation agents could not make it to the Local Government Collation Centre, as the engine boats in which they were travelling developed a fault.
He said the development caused the ward collation agents to resort to manual paddling.
Barr Willie, during cross examination also told the tribunal that election results can be collated outside Ward collation centres "as was the case in Oron".
He said lightening and security made it impossible for election results to be carried out at designated collation centres and that led to collation elsewhere with the support of security agents and INEC officials.
He further stated that he was not aware that election results were supposed to be entered into forms EC8A, EC8B and EC8C.
Another witness, a former PDP state chairman, Uwem Ita Etuk, during cross examination told the respondent's counsel, Dayo Akinlaja, that "he will give him
what he wants".
His statement was in response to a request by the counsel to provide an answer to a question. The witness added, "if anyone says no election took place in the area, then INEC should be told to answer for it". Counsel to INEC, Obinna Onyia, declined cross examining the witness.
When asked to state between number of accredited voters and votes cast, which should be higher during election, he said he does not know, as he was only a voter at polling unit 003.
Also testifying, Mr Jude Edet, the Local Government collation agent for Ibesikpo Asutan, said it was wrong for Dr Ita Udosen and former governor Victor Attah to have testified that there was no election in the area.
He denied knowing the names of other PDP ward agents in the area, despite the fact that he was the local government collation agent. He however admitted that it was wrong for total votes cast to be higher than total number of accredited voters, saying such a development amounts to fraud. "Ghosts can't vote", he noted.
After the testimony of these witnesses, the respondents counsel, Paul Usoro, who had earlier pledged to call eight witnesses, asked the court for adjournment, saying, "My Lord, we've had enough from this witnesses for today". The tribunal then adjourned to Monday, September 7, 2015.
It would be recalled that the All Progressives Congress governorship candidate, Umana Umana had approached the tribunal challenging the conduct of the April poll and declaration of Udom Emmanuel as winner of the election.

Load more